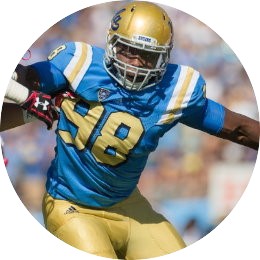 Jarvis Jones (2013), Ryan Shazier (2014) and Bud Dupree (2015) were the Steelers first-round picks. McKinley makes it the fourth linebacker drafted in the last fives years.
Defense Headlines Steelers 2017 Draft Needs
2016 Steelers Draft 2016                                                             College2Pro Steelers Mock Draft
1st Artie Burns, DB, Miami (FL)                                                     Eli Apple, DB, Ohio State
2nd Sean Davis, SS, Maryland                                                        Vonn Bell, SS, Ohio State
3rd Javon Hargrave, DT, South Carolina St                                 Correct
4th Jerald Hawkins, OT, LSU                                                         Jacoby Brissett, QB, N.C. State
5th Travis Feeney, LB, Washington                                               Joe Dahl, G, Washington State
6th DeMarcus Ayers, WR, Houston                                               LeShaun Sims, DB, Southern Utah
7th Tyler Matakevich, LB, Temple                                                 Marcus Johnson, WR, Texas
The Steelers head into the up-coming draft with the idea of replenishing depth rather than drat for drastic needs of replacing former aging stars on each side of the ball. The team has been able to stay relevant transforming the former nucleus with a new generation of play-makers.
We are underway for another fascinating off season for the Steelers. Le'Veon Bell and Antonio Brown are the marquee names that will garner the bulk of attention especially with Bell a pending free agent and one of the most dynamic players in the entire league.
A few years ago the team was desperate for offensive line help and then the secondary become a huge cause for concern. The offensive line allowed the second fewest sacks (21) behind only the Oakland Raiders (18). Pittsburgh finished seventh overall in total offense and proved to be a formidable force in 2016.
Defensively the unit is a work in progress. Their sacks an interception numbers dipped in 2016 prior to their 2015 production. In 2015 the team recorded 48 sacks and 17 interceptions and one season later Pittsburgh accumulated 38 sacks and 13 interceptions.
Their first three picks in the 2015 NFL Draft (Burns, Davis and Hargrave) play critically important roles and look to be big pieces to the defense moving forward. It will be a matter of them becoming more experienced along with more additions made via the draft or free agency.
First-Round
Takkarist McKinley, OLB, UCLA
He has immense upside and the Steelers defense functions best when the outside linebackers are making sacks. It will mark the fourth time in the last five years they have drafted a linebacker in the first-round. With Jarvis Jones likely not being brought back and James Harrison wizardry of avoiding Father-Time can only last so long before he is caught. Please keep in mind the size preference of the position and you will realize why McKinley or Alabama's Tim Williams fit the mold of what the Steelers want as a pass rushing linebacker.
Second-Round
Chidobe Awuzie, DB, Colorado
The former Buffalo defensive back is a lockdown corner with good field awareness who will help add depth and talent. The team really does not know what it has in Senquez Golson a former second-round pick in 2015 who has been unable to stay healthy and play in a regular season game. Awuzie only enhances the defense and possibly giving them a bookend opposite of Artie Burns.
Third-Round
Kareem Hunt, RB, Toledo
One of the deepest running back classes in decades the plethora of players available are simply to talented to pass on in the third-round and it serves as an insurance policy in case Bell misses significant time. DeAngelo Williams is a free agent and turns 34 two days prior to the 2017 NFL Draft. While he has been superb in filling in for Bell the logical thinking if he can with stand another big workload is not the smartest bet to make.
Fourth-Round
Julien Davenport, OT, Bucknell
Pittsburgh prefers their offensive lineman to be well over 310 pounds when playing tackle. Bucknell is 6-foot-7 and 310 pounds and provides the team depth with some versatility to slide in at guard in a pinch. Expect the Steelers to add some weight to the Bucknell star lineman.
Fifth-Round
Conner Harris, ILB, Lindenwood
The most productive linebacker in NCAA history recorded 633 total tackles during his career and spent time at running back as well. Harris could be a factor in the fifth-round. Lawrence Timmons hopefully is retained when free agency begins but his departure would leave a real void in the Steelers defense. Timmons staying and showing Harris the way would be the ideal situation.
Sixth-Round
Al Riles, WR, Louisiana-Lafayette
This is where long road hours by regional scouts take effect when the draft nears its end. Pittsburgh is always a safe bet to pick a receiver in the sixth or seventh round and the tradition continues with Riles the 'Jabrill Peppers' of the Sun Belt Conference. He has played safety, linebacker and receiver at impact levels.
Seventh-Round
Javancy Jones, OLB, Jackson State
Knowing the young man I hope he goes a little higher than the seventh-round so he can exhale a bit on draft weekend. Jones is simply a play-maker with swagger and the ability to be productive in a wide variety of way defensively. He can tackle. He can get after the quarterback and I do believe if he had Alabama on his jersey he would be a third-round prospect.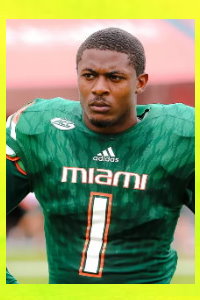 Steelers Grab Artie Burns Round 1
First-Round, 25th overall
Eli Apple, DB, Ohio – Apple is one of the best defensive available in the draft and would serve an immediate need for Pittsburgh. The secondary is the unit most in need and must be addressed to help assure the defense can be relied on during the season.
Second-Round, 58th overall
Vonn Bell, SS, Ohio State – Incumbent strong safety Will Allen an Ohio State alum enters his 13th season in the NFL. He still plays at a high level and his locker room presence with worth its weight in gold. A leader and guy who can mentor Bell on perfecting the craft of playing safety in the NFL. Bell has the size and smarts to earn playing time early in his rookie season.
Third-Round, 89th overall
Javon Hargrave, DT, South Carolina State – Steve McClendon and Cam Thomas leave the defensive interior needy of depth and talent. Hargrave is a big man and Pittsburgh like beefy interior players. Standing at 6-foot-1 and 315 pounds, Hargraves is a stout force in the run game who is able to clog the running lanes and allowing the edge players to collaspe the pocket.
Fourth-Round, 124th overall
Jacoby Brissett, QB, NC State – Only the second quarterback drafted by Pittsburgh with Kevin Colbert as General Manager. Brissett has some Ben Roethlisberger traits to his game. Landry Jones does not seem to be the guy Pittsburgh feels can help out in a quick pinch. I would not be surprised if another veteran name is thrown into the mix after the NFL Draft to provide Pittsburgh with additional options in case Roethlisberger misses any time.
Fifth-Round – Traded to Philadelphia Eagles for defensive back Brandon Boykin.
Sixth-Round – Traded to Jacksonville Jaguars for kick Josh Scobee.
Seventh-Round, 244th overall
Marcus Johnson, WR, Texas – Johnson never became the focal point of the Longhorns passing attack at Texas. However, Johnson is extremely talented and after his Pro Day performance he put himself on the back burner of late-round sleepers. Three of the Steelers seven receivers taken with Kevin Colbert as GM have arrived in the sixth-round. Johnson becomes the first seventh-round selection.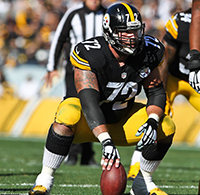 "This is my third year here," said Cody Wallace. "So I have a good handle on the system, been with the same guys a lot with Ramon (Foster) and Dave (DeCastro) at the guard positions."

Like a good 'Neighbor' Wallace is there
A lot of pressure falls on the shoulders of the center, especially when you're replacing a Pro Bowler considered the best at his position – It intensifies with Super Bowl aspirations.
That is the situation for sixth- year veteran Cody Wallace of the Pittsburgh Steelers.
Pouncey was place on the teams Reserve/Injured; Designated For Return List back in September after hurting his right ankle.
"This is my third year here," said Cody Wallace. "So I have a good handle on the system, been with the same guys a lot with Ramon (Foster) and Dave (DeCastro) at the guard positions."
Wallace had done a superb job of directing the offense and snapping to three different quarterbacks this season.
"That's life as a back-up in the NFL," joked Wallace knowing that when your number is called you got to be ready roll.
The Steelers certainly know his value and establishing himself as a top reserve with starter potential. Prior to signing with the Steelers (2013) the 2008 fourth-round pick in the 2008 NFL Draft spent time on five other NFL teams that includes the San Francisco 49ers, Houston Texans, New York Jets, Detroit Lions and Tampa Bay Buccaneers.
Six teams in eight seasons puts Wallace in that journeymen type category – Or maybe relatively unknown.
"Everyone calls me the 'Neighbor'," laughed Wallace. "Tomlin started it. He kind of jokes and says, 'Yah this guy looks like your neighbor, but you get him on the field and he's a bad dude', everyone enjoyed it and it kind of stuck."
Wallace has stuck just like his nickname.
"I like to think I'm a nice guy in the locker room, but when we go on the field I try to be a little dirty."
That nasty tough play has helped the offensive line stay aggressive and keep the offense ranked near the top of the league (9th) in points scored.
In his third season with the Steelers he is learning the trade under Hall of Famer Mike Munchak. He is in his second season as the offensive line coach and has helped not only Wallace excel but the entire unit.
"He's huge (In his importance) and all guys in the room love him," said Wallace. "He makes it fun coming in there and he's a guy that played for a long time so he understands what we go through. He knows it's not always going to be perfect. He just wants us to play hard and bring a nasty attitude."
Like a good 'Neighbor' Wallace is there – Doing a superb job and keeping the continuity along the offensive front cohesive.