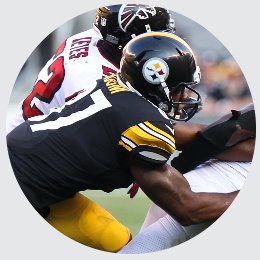 Blocking Will Not Block Him From His Dream
September 2nd, looms large over a vast majority of players currently in NFL training camps. The date also hangs heavy over a guy teammates call 'Phaz' that rhymes wit jazz, opposite of how is name is pronounced.
Phazahn Odom the former fifth year senior from Fordham is one of the players percolating on the roster bubble. His 6-foot-8 athletic frame immediately makes one indulge in the possibilities and potential he could achieve at the next level.
Prior to 4:00 p.m. (Sept. 2nd), New York time, clubs must reduce rosters to a maximum of 53 players on the Active/Inactive List.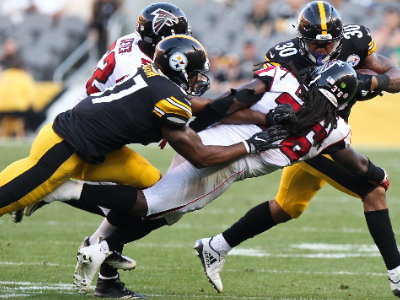 "Everything is coming along," Odom said after the team's second preseason game. "It's been a grind going from college to pro. I feel like overall I've definitely been improving."
During rookie camp he emerged as a guy Pittsburgh wanted to see more of after a career at Fordham where he was able to finish second in Rams' history with nine touchdowns by a tight end.
Odom is a raw prospect that the Steelers' hope to be able to mold into a player that could contribute. It may not be immediately but tucking him away on the Practice Squad and working with him possibly could be the ticket to punching the NFL time clock for a full 16 game schedule.
"My coach has been on me;" Odom admits and adds, "Coaching me up on blocking and technique."
Watching him against the Atlanta Falcons he gives maximum effort in that regard which will surely be noticed by coaches breaking down game film. If his blocking continues to trend in the right direction the hallmark of his game will naturally go back towards his ability to catch the football.
His size and athleticism doesn't allow us to view him any other way. Long and lean with giant strides, Odom just looks the part of pass catching tight end.
The days are narrowing down to September 2nd, and it might not exactly be the Odom makes the final 53-man roster but could be another stepping stone to the Practice Squad.
Photo Credit College2Pro.com Frank Hyatt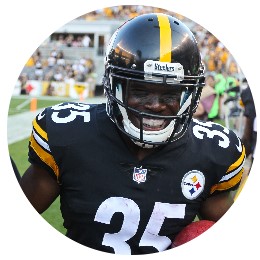 Trey Williams Aims To Stick With Steelers
Pittsburgh – Trey Williams went undrafted out of Texas A&M in the 2015 NFL Draft. Williams originally signed with Washington (2015) before bouncing around to the Dallas Cowboys, New England Patriots, Miami Dolphins, and Indianapolis Colts before arriving in Pittsburgh this past season.
"You never know when your chance is," Williams said post-game. The chance he was referencing to was his 64-yard punt return in the third quarter of Pittsburgh's win over the Atlanta Falcons 17-13.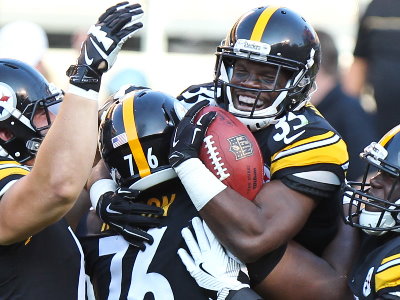 "If punt return is what it is the make the team then I'm going to do," Williams said.
During his time at Texas A&M, he returned kicks but any punts. He possesses a compact muscular frame with burst, which he showed on the return.
He amassed 1,684 return yards during his time in College Station, Texas for the Aggies.
Photo Credit College2Pro.com Frank Hyatt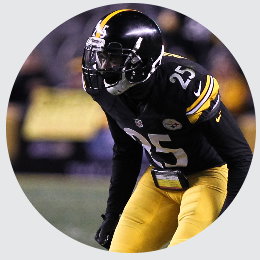 Pittsburgh – According to NFLPenalties.com, Steelers' defensive back Artie Burns finished 16 total penalty flags second only to Josh Norman (19) of the Washington Redskins last year. Burns was called for another personal foul, against the Atlanta Falcons, which may be a cause for concern since he is such a promising piece to the secondary.
Burns answered questions after the game in a vintage Seattle Supersonic jersey of Gary Payton. He was a bit surprised himself with the unnecessary roughness penalty he occurred during the game against the Falcons.
"The guy engaged me and was blocking me," Burns recalling the play that warranted a 15-yard penalty. "I gave him the flipper and he flipped. I guess they (Refs) wanted to call unnecessary roughness I guess."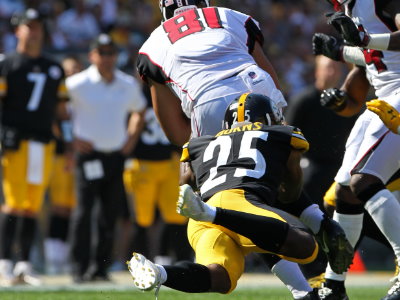 The second-year defensive back plays aggressive and at 6-foot-1 and nearly 200 pounds he does bring some power behind his frame.
"They are getting soft on the receivers," Burns acknowledging as a possibility on why refs are tossing their yellow hankies in the air.
It is a situation worth monitoring, since Burns plays such a large role in the secondary. Physical and intimidating accompany Burns style of play and allowing him to play fairly but without consequences and scrutiny from the authority makers on the field should be noted.
Burns 2016 Penalty Stats
Defensive Holding (3), Defensive Pass Interference (3), Illegal Block Above the Waist (2), Offensive Holding (2), Defensive Offside (2), Unnecessary Roughness (2), Illegal Contact (1), Illegal Use of Hands (1)
Photo Credit College2Pro.com Frank Hyatt & Jason Pohuski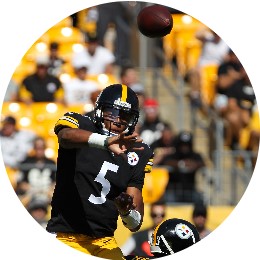 Dobbs Up & Down Preseason
Pittsburgh – Joshua Dobbs exited the field after two straight punts to open the game against the Atlanta Falcons in the Steelers' second preseason game.
He proceeded to meet with Landry Jones after his second scoreless drive along with Bart Houston. Starter Ben Roethlisberger was nearby but attending to his offensive linemen.
A lot is expected of Dobbs, whom some envision as a possible candidate to earn significant playing time if Roethlisberger misses time.
"O course you'd like to put some more points on the board to have more to show for it," Dobbs admitted after the game. "As a unit, we have to get better on third down. So there are always things to improve on. But we also did some things well. So we will have an opportunity tomorrow to get in, watch some film and figure out ways to improve."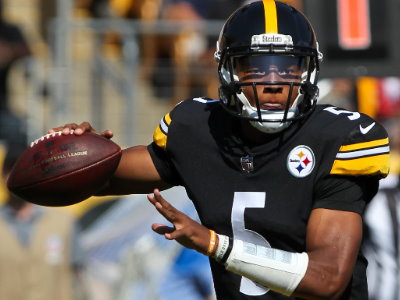 The rookie quarterback looks poised and relaxed in the pocket but his accuracy needs to tighten up. He appears to go through his progressions but finding his target is where he needs to zero in and make the throw. One area he does seem to excel is his deep throws, which is encouraging.
After two preseason games, Dobbs has completed 18 of 34 passes for 170 yards along with one touchdown and interception. Not staggering statistics when glancing at the stats but watching him develop early on shows some encouraging progress.
Athletic with mobility are a couple of assets for his developing game but most important is his pocket presence. Dobbs eluded pressure several times against the Atlanta to avoid a sack.
"The big thing for me is coming in and playing football," Dobbs said. "You are learning the playing, taking in a ton of different coaching points each and every day. So you are conscious of those."
It does not appear he has done enough to unseat Landry Jones as the back-up to Roethlisberger. Dobbs at least has provided Pittsburgh with hope they can develop him for success in the future.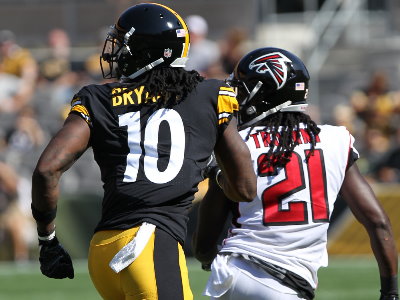 Dobbs On Bryant
It was good. He's a dynamic playmaker. You see it in his highlights – everything that he can do – and to have him as a weapon and to have the chance to be a quarterback with that weapon. I was looking for him every chance I could get.
The defense did a good job changing up the coverage's and rolling to his side to try to protect people in coverage. So whenever you have the opportunity to take a shot, you've got to take it.
Photo Credit College2Pro.com Frank Hyatt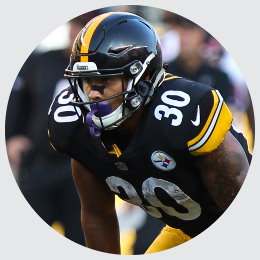 Conner Shows Flashes But Not On Level Of Le'Veon
Pittsburgh – The Steelers kept feeding their rookie running back James Conner against the Atlanta Falcons. Watching the rookie ware down the Falcons' defense might have perked the interest of Le'Veon Bell if he was watching in the safe confines of him home, while the Steelers await his decision to return and sign his one year contract under the franchise tag.
Conner ran for 98 yards on 20 carries displaying the same traits that placed him second overall in Pittsburgh Panthers school history with 3,733 rushing yards. He displayed the power and ability to cut and get up field.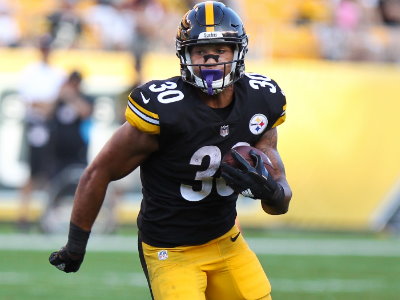 "With all the runs, I was relaxing, getting more comfortable as the run were going by us," Conner said after his first game at Heinz Field where he played his college games. Pittsburgh ultimately wants Bell to get back to camp as soon as possible but the longer he waits it allows the team to take a very long look at what that have in the 105th overall pick in the 2017 NFL Draft.
Bell thrives as one of the best receiving running backs in the league. Evidence is in his 75 receptions that ranked second on the team behind Pro Bowl receiver Antonio Brown. Conner had two drops that were going to lead to big gains against the Falcons.
"Just got to get my hands ready for the next game," Conner said from his locker. "Frustrating because they were catch able balls."
The Erie, PA native has a very positive vibe trending in his favor. Conner has an upbringing in Pennsylvania, played for the Panthers and finally being drafted by the Steelers.
Colleg2Pro.com Photographer Frank Hyatt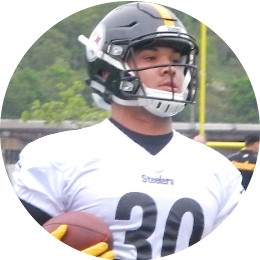 Conner Replaces Bell If Holdout Fails To Cease
Five Burning Issues For The Steelers' Leaving For Latrobe
Fans eagerly await another season of Steelers' football due to the fact that this team represents one of the best since their last Super Bowl against the Green Bay Packers in 2010.
Pittsburgh heads into camp without Le'Veon Bell who elected not to sign a contract and remains under the franchise tag. It is a cause for concern since he is such a focal point of the offense, when he is in it. He'll be the focal point of conversation due to his extremely gifted abilities on the field but other intriguing issues remain at camp opens.
Can A Rookie Give Them Confidence
James Conner was selected in the third round of this 2017 NFL Draft. The pick in my opinion was taken as insurance to the many issues that surround Pro Bowl running back Le'veon Bell. Regardless of the contract developments surrounding Bell if Conner does not look like he can be a factor early if needed the Steelers will be forced to sign free agent bodies. DeAngelo Williams remains unsigned as does Rashad Jennings. These veterans could be brought in if Conner does not look up to the task as camp nears the up-coming season.
Four In A Row
Last season head coach Mike Tomlin broke a current streak of two straight playoff appearances and then missing the playoffs. Now his current streak stands at three straight playoff appearances (2014-16) and the last Steelers' head coach to make four in a row was Bill Cowher (1994-97). Cowher holds the teams' second longest streak of six straight from 1992-97 while Hall of Fame coach Chuck Knoll holds the record of eight straight (1972-1979).
2015 / Round: 2 / Pick: 56
Two years ago the Steelers were excited to see what then rookie Senquez Golson had to offer the secondary. He talented defensive back out of Ole Miss was placed on the Steelers' Reserve/Injured list due to a shoulder injury on August 31, 2015, missing his rookie year. In year two, Golson suffered a Lisfranc injury and never played in a single game. He possesses a ton of talent and could be a real contributor in the secondary and if his camp is strong enough, he could unseat incumbent Ross Cockrell to start next to second year man Artie Burns.
Blind Side
Regardless how talented Antonio Brown and Le'Veon Bell are it still appears that if Ben Roethlisberger is not healthy the offense gets stagnant real quick. One of the key pieces to keeping him protected is by the play of left tackle Alejandro Villanueva. The former Army Ranger captain is a possible day one no show for camp and that could become a real problem for a team with Super Bowl aspirations. Villanueva, an exclusive rights free agent, may not commit to coming to camp leaving a large void in the teams first line of defense.
Return to Greatness
The Steelers' defense is predicated on their linebackers pumping the blood through the entire defense. It does take all 11 players to work in unison but the linebackers are the key ingredient to allowing the process to function at maximum ability. If Bud Dupree and Ryan Shazier can stay healthy for an entire season it would bolster the defense to playoff caliber football. These two possess the potential of the greats that have played in front of them and it is imperative they stay on the field for Pittsburgh to challenge for a championship.
Defensive Rookies Shine Day 1
Steelers Rookie Camp Reviews – Defensive Rookie Impact
Pittsburgh – The Steelers unleashed their collection of young talent to the media this afternoon. The rookies and other free agent tryouts worked out as F-16 fighter jets circled over head in anticipation of tomorrow's air show.
It served as the first official practice for their 2017 collection of NFL Draft picks that included T.J. Watt and JuJu Smith-Schuster respectively. The day also allowed dozens of other free agents to show their skills to the Steelers coaching and scouting departments.
The morning practice revealed several prospects that warrant attention and their listed below.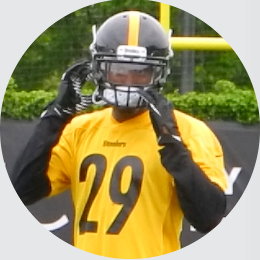 Brian Allen, CB, Utah
Acquired 2017 NFL Draft 5th Round
Mike Tomlin seemed to express a special interest in the 6-foot-3 and 215 pound Allen who may possibly remind most of Mel Blount due to his impressive stature.
"I heard him," Allen said. "I knew he was a great coach from the beginning and when he gave me the phone call on draft day he kind a gave me a little joke on the telephone but I'm just happy to be out here and thankful for the opportunity."
Allen made a terrific one-handed interception every bit as impressive as the Odell Beckman made famous.
"I practice catches," Allen said. "When I was a wide receiver I used to stay after practice and practice one handed catches like that. I wouldn't necessarily say its luck but I would say there was a little bit of skill put into it."
He made the switch from receiver to safety but only stayed their two games after injuries forced him to move to defensive back and he has been there ever since (2014).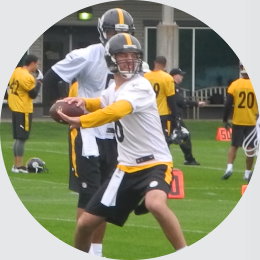 Dillon Buechel, QB, Duquesne
Tryout '17
After the first practice Buechel put together a solid morning. He threw tight spiraled passes with some zip and looked like a arm that could hang around for the duration of camp.
A real long-shot in terms of making the team but again after one day of practice he looked as poised and mechanically inclined as fourth round selection Josh Dobbs.
It is also taking nothing away from Dobbs who looked equally relaxed deliver his passes, but considering Buechel's background and level of competition. The NEC (Northeast Conference) is a far cry from the most powerful collegiate conference (SEC) where Dobbs used to reside.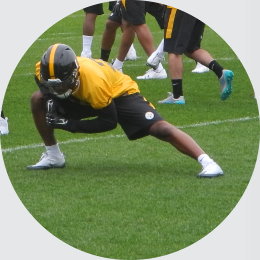 Cameron Sutton, CB, Tennessee
Acquired NFL Draft 3rd Round
"A little bit (laughing)," Sutton said in regards to how much film he has seen of his new teammate Antonio Brown. "We are definitely going to have some good battles and competition but at the end of the day we are all working towards one goal and that is to win."
Sutton was impressive after once practice showing nice anticipation to break on the ball and some very fluid hips that allow him to sink into coverage without losing the gap between him and the receiver.
His acquisition in the third round could be the steal of the Steelers draft his year if he continues to display the ability he revealed today.
Keion Adams, LB, Western Michigan
Acquired NFL Draft 7th Round
It was hard to not be impressed by the athleticism shown by Adams this afternoon. His basketball background and decisive steps trigger his ability to pursue the ball effectively.
He covers the field quickly and his hallmark ability is rushing the quarterback. That coincides with the most important aspect of the Steelers defense and that is rushing the passer.
If Pittsburgh can develop this talented 7th round selection out of Western Michigan he could become a will asset on situational passing plays that warrant his skill set.
Corey Jones, WR, Toledo
Tryout '17
Pittsburgh used the 97th overall pick (Third Round) of the 2014 NFL Draft on Dri Archer. Jones is a splitting image of Archer is both size and ability.
The Steelers envisioned big things for Archer who never materialized and now is with the Buffalo Bills. That is why Jones is a special player to watch because Pittsburgh could still be looking to curve their appetite for a player like Archer.
Jones is a return specialist and solid pass catching prospect that Todd Haley could mix and match in his offensive scheme. Making the team is the first priority but he is worth keeping an eye on.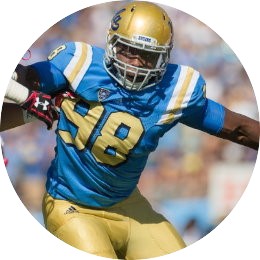 Jarvis Jones (2013), Ryan Shazier (2014) and Bud Dupree (2015) were the Steelers first-round picks. McKinley makes it the fourth linebacker drafted in the last fives years.
Defense Headlines Steelers 2017 Draft Needs
2016 Steelers Draft 2016                                                             College2Pro Steelers Mock Draft
1st Artie Burns, DB, Miami (FL)                                                     Eli Apple, DB, Ohio State
2nd Sean Davis, SS, Maryland                                                        Vonn Bell, SS, Ohio State
3rd Javon Hargrave, DT, South Carolina St                                 Correct
4th Jerald Hawkins, OT, LSU                                                         Jacoby Brissett, QB, N.C. State
5th Travis Feeney, LB, Washington                                               Joe Dahl, G, Washington State
6th DeMarcus Ayers, WR, Houston                                               LeShaun Sims, DB, Southern Utah
7th Tyler Matakevich, LB, Temple                                                 Marcus Johnson, WR, Texas
The Steelers head into the up-coming draft with the idea of replenishing depth rather than drat for drastic needs of replacing former aging stars on each side of the ball. The team has been able to stay relevant transforming the former nucleus with a new generation of play-makers.
We are underway for another fascinating off season for the Steelers. Le'Veon Bell and Antonio Brown are the marquee names that will garner the bulk of attention especially with Bell a pending free agent and one of the most dynamic players in the entire league.
A few years ago the team was desperate for offensive line help and then the secondary become a huge cause for concern. The offensive line allowed the second fewest sacks (21) behind only the Oakland Raiders (18). Pittsburgh finished seventh overall in total offense and proved to be a formidable force in 2016.
Defensively the unit is a work in progress. Their sacks an interception numbers dipped in 2016 prior to their 2015 production. In 2015 the team recorded 48 sacks and 17 interceptions and one season later Pittsburgh accumulated 38 sacks and 13 interceptions.
Their first three picks in the 2015 NFL Draft (Burns, Davis and Hargrave) play critically important roles and look to be big pieces to the defense moving forward. It will be a matter of them becoming more experienced along with more additions made via the draft or free agency.
First-Round
Takkarist McKinley, OLB, UCLA
He has immense upside and the Steelers defense functions best when the outside linebackers are making sacks. It will mark the fourth time in the last five years they have drafted a linebacker in the first-round. With Jarvis Jones likely not being brought back and James Harrison wizardry of avoiding Father-Time can only last so long before he is caught. Please keep in mind the size preference of the position and you will realize why McKinley or Alabama's Tim Williams fit the mold of what the Steelers want as a pass rushing linebacker.
Second-Round
Chidobe Awuzie, DB, Colorado
The former Buffalo defensive back is a lockdown corner with good field awareness who will help add depth and talent. The team really does not know what it has in Senquez Golson a former second-round pick in 2015 who has been unable to stay healthy and play in a regular season game. Awuzie only enhances the defense and possibly giving them a bookend opposite of Artie Burns.
Third-Round
Kareem Hunt, RB, Toledo
One of the deepest running back classes in decades the plethora of players available are simply to talented to pass on in the third-round and it serves as an insurance policy in case Bell misses significant time. DeAngelo Williams is a free agent and turns 34 two days prior to the 2017 NFL Draft. While he has been superb in filling in for Bell the logical thinking if he can with stand another big workload is not the smartest bet to make.
Fourth-Round
Julien Davenport, OT, Bucknell
Pittsburgh prefers their offensive lineman to be well over 310 pounds when playing tackle. Bucknell is 6-foot-7 and 310 pounds and provides the team depth with some versatility to slide in at guard in a pinch. Expect the Steelers to add some weight to the Bucknell star lineman.
Fifth-Round
Conner Harris, ILB, Lindenwood
The most productive linebacker in NCAA history recorded 633 total tackles during his career and spent time at running back as well. Harris could be a factor in the fifth-round. Lawrence Timmons hopefully is retained when free agency begins but his departure would leave a real void in the Steelers defense. Timmons staying and showing Harris the way would be the ideal situation.
Sixth-Round
Al Riles, WR, Louisiana-Lafayette
This is where long road hours by regional scouts take effect when the draft nears its end. Pittsburgh is always a safe bet to pick a receiver in the sixth or seventh round and the tradition continues with Riles the 'Jabrill Peppers' of the Sun Belt Conference. He has played safety, linebacker and receiver at impact levels.
Seventh-Round
Javancy Jones, OLB, Jackson State
Knowing the young man I hope he goes a little higher than the seventh-round so he can exhale a bit on draft weekend. Jones is simply a play-maker with swagger and the ability to be productive in a wide variety of way defensively. He can tackle. He can get after the quarterback and I do believe if he had Alabama on his jersey he would be a third-round prospect.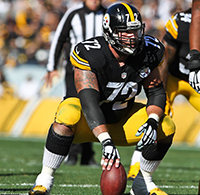 "This is my third year here," said Cody Wallace. "So I have a good handle on the system, been with the same guys a lot with Ramon (Foster) and Dave (DeCastro) at the guard positions."

Like a good 'Neighbor' Wallace is there
A lot of pressure falls on the shoulders of the center, especially when you're replacing a Pro Bowler considered the best at his position – It intensifies with Super Bowl aspirations.
That is the situation for sixth- year veteran Cody Wallace of the Pittsburgh Steelers.
Pouncey was place on the teams Reserve/Injured; Designated For Return List back in September after hurting his right ankle.
"This is my third year here," said Cody Wallace. "So I have a good handle on the system, been with the same guys a lot with Ramon (Foster) and Dave (DeCastro) at the guard positions."
Wallace had done a superb job of directing the offense and snapping to three different quarterbacks this season.
"That's life as a back-up in the NFL," joked Wallace knowing that when your number is called you got to be ready roll.
The Steelers certainly know his value and establishing himself as a top reserve with starter potential. Prior to signing with the Steelers (2013) the 2008 fourth-round pick in the 2008 NFL Draft spent time on five other NFL teams that includes the San Francisco 49ers, Houston Texans, New York Jets, Detroit Lions and Tampa Bay Buccaneers.
Six teams in eight seasons puts Wallace in that journeymen type category – Or maybe relatively unknown.
"Everyone calls me the 'Neighbor'," laughed Wallace. "Tomlin started it. He kind of jokes and says, 'Yah this guy looks like your neighbor, but you get him on the field and he's a bad dude', everyone enjoyed it and it kind of stuck."
Wallace has stuck just like his nickname.
"I like to think I'm a nice guy in the locker room, but when we go on the field I try to be a little dirty."
That nasty tough play has helped the offensive line stay aggressive and keep the offense ranked near the top of the league (9th) in points scored.
In his third season with the Steelers he is learning the trade under Hall of Famer Mike Munchak. He is in his second season as the offensive line coach and has helped not only Wallace excel but the entire unit.
"He's huge (In his importance) and all guys in the room love him," said Wallace. "He makes it fun coming in there and he's a guy that played for a long time so he understands what we go through. He knows it's not always going to be perfect. He just wants us to play hard and bring a nasty attitude."
Like a good 'Neighbor' Wallace is there – Doing a superb job and keeping the continuity along the offensive front cohesive.