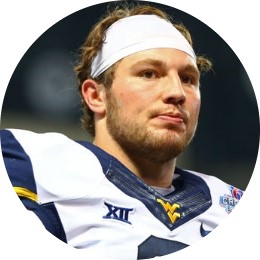 School:  West Virginia
College Experience: Senior
Height/Weight: 5'10" / 208
All-Star Invite: N/A
Twitter: @SkylerDonHoward ‏
40 YARD DASH TIME :: 4.64
225 BENCH REPS ::
VERTICAL JUMP :: 32
BROAD JUMP :: 9'07"
SHUTTLE :: 4.32
3-CONE :: 7.38
Career Timeline & Bio:
Cactus Bowl MVP 2016
WVU Offensive Player of the Year 2016
Maxwell Award Watch List 2016
Wuerrffel Trophy Watch List 2016
Davey O'Brien Award Watch List
Davey O'Brien Great 8 Weekly Awards (September 12th,2016 & October 16th, 2016 )
Big 12 Player of the Week (October 17th, 2016)
Scout Big 12 Player of the week (October 18th, 2016)
All-State American Football Coaches' Association Good Works Team Nominee 2016
Kirk Herbstreit Herbie Award Best Kept Secret 2016
Earl Campbell Tyler Rose Award National Player of the Wee (September 14th, 2016)
Manning Award Quarterback of the Week (October 20,2016)
4-0 vs. Texas Schools 2016 (victories over TCU, Baylor, @Texas Tech and @ Texas)
2016 (Senior)
Started 28 games/ Played in 30 during WVU Career
Ranked No. 19 nationally and No. 3 in Big 12 in points responsible for (216)
Ranked No. 19 nationally and No. 3 in the Big 12 in points responsible for per game (16.6)
Ranked No. 23 nationally and No. 5 in the Big 12 in offense (291.6 avg.)
Ranked No. 25 nationally and No. 4 in the Big 12 in passing touchdowns (26)
Ranked No. 26 nationally and No. 3 in the Big 12 in passing yards per completion (13.5 avg.)
Ranked No. 27 nationally and No. 4 in the Big 12 in passing yards (3,328)
Ranked No. 28 nationally and No. 4 in the Big 12 in yards per pass attempt (8.2)
Ranked No. 28 nationally and No. 4 in the Big 12 in passing efficiency (146.6)
Ranked No. 32 nationally and No. 4 in the Big 12 in passing yards per game (256.0 avg.)
Ranked No. 42 nationally and No. 6 in the Big 12 in completions per game (19.0 avg.)
Ranked No. 45 nationally and No. 4 in the Big 12 in completion percentage (.611)
Ranked No. 9 in the Big 12 in rushing touchdowns (10)
Has completed 10 passes of 50 yards or more this season, including one in four straight games
With five touchdown passes at Iowa State, moved into third place all-time in career touchdown passes, passing Pat White (2005-08); he now has 58 career touchdown passes, needing one to tie Marc Bulger for second place
With 7,168 passing yards, moved past Pat White for third place on the all-time list
With 507 career passing completions, tied Pat White for third place on the all-time list
With 75 touchdowns responsible for, moved passed Rasheed Marshall for third place on the all-time list
Threw for 111 yards with two passing TDs and one rushing against Baylor
Eclipsed 3,000 yards passing on the season with 330 yards and five touchdowns at Iowa State, including a career-long TD pass of 71 yards
Completed 12-of-27 with a long of 61 and two passing touchdowns and two rushing touchdowns against Oklahoma, becoming the first Mountaineer to run for at least two touchdowns and pass for at least two touchdowns in a game twice in a season since Pat White in 2007.
Responsible for five touchdowns against Kansas, three passing, two rushing
Connected with Ka'Raun White on a 29-yard TD at Texas
Ran for and threw one TD at Oklahoma State
Threw four touchdowns in win against TCU
Threw one TD and ran for two more at Texas Tech for his first career multiple rushing TD game
Finished with a career-high 41 pass attempts against Kansas State
Tallied a career-high 31 pass completions in win vs. BYU; also accounted for two TDs (one passing, one rushing)
Matched a career high with five touchdown passes in win over Youngstown State; also completed 20 passes for season-high 389 yards
Finished with a season-high 23 pass completions in 2016 opener vs. Missouri
2015 (Junior)
Team captain
All-Big 12 Academic Second-Team selection
Ranked No. 9 nationally, No. 2 in the Big 12, in passing yards per completion (14.2)
Ranked No. 28 in the NCAA, No. 5 in the Big 12, in total offense (280.5)
Also ranked No. 24 in NCAA, No. 5 in Big 12, in passing TDs (26) and No. 37 in NCAA, No. 5 in Big 12 in passing yards per game (241.9)
Ranked No. 38 in the NCAA, No. 5 in the Big 12, in yards per pass attempt (7.

Ranked No. 54 in the NCAA, No. 5 in the Big 12, in passing efficiency (134.7)
Earned Cactus Bowl Offensive MVP honors after setting the bowl passing record with the second-highest mark in school history (532) and five touchdowns in win over Arizona State
Set bowl record for total offense (555) and tied record for most touchdown passes (5)
Set season and career highs in pass completions (28), attempts (51), yards (532) and touchdowns (5) vs. ASU
Attempted a then season-high 42 passes at Kansas State and finished with 281 yards passing and one touchdown, a 24-yard connection with Jovon Durante
Was 12-26 for 202 yards with one 60-yard touchdown pass against Iowa State
Against the Cylcones, he ran for a team-high 73 yards, including a 32-yard touchdown
Ran for a career-best 129 yards and a touchdown at Kansas; had a long run of 42 yards; also had 35- and 17-yard runs
Completed 13-of-22 passes for 133 yards and a touchdown at Kansas; long of 20 yards
Efficient in win vs. Texas, completing 10-of-12 passes and tossing two TDs, including a 53-yard touchdown to Jovon Durante; also scored on a two-yard run late in the fourth quarter
Finished with 176 yards of total offense in win over Texas Tech
Ran for 40 yards on 10 carries, averaging 4.0 yards per carry at TCU
Finished with four touchdown passes at Baylor, including a career-long scoring toss of 70 yards to Shelton Gibson
Threw a touchdown and ran for one against Oklahoma State
Finished with 47 yards rushing with a long of 15 yards against Oklahoma State
Earned first career rushing touchdown with 50-yard run on fourth-and-two in third quarter at Oklahoma; it was a career-long run and WVU's longest rush from scrimmage this year
Threw a career-high four TDs against Maryland; also completed a career-high 21 passes for second straight week
Completed a career-high 21 passes against Liberty, including a string of 14 straight completions
Went 16-of-25 for a career-best 359 passing yards and threw two touchdowns against Georgia Southern in first career start at Milan Puskar Stadium
Connected with Shelton Gibson and Jovon Durante on 57-yard tosses against Georgia Southern
2014 (Sophomore)
Played in four games and started two
Threw for 346 yards and three touchdowns against Texas A&M in the Liberty Bowl
Ran for 33 yards with a long of 18 against the Aggies
Made first career start at Iowa State, completing 21 passes at Iowa State for 285 yards and three touchdown in the come-from-behind victory
Gained 69 yards on seven rushes at Iowa State, the most rushing yards for a WVU quarterback since Jarrett Brown finished with 73 yards against East Carolina on Sept. 12, 2009
Completed 15-of-23 passes for 198 yards against Kansas State, with two touchdowns and a long of 53 yards in relief of an injured Clint Trickett
Made first career appearance against Kansas and finished with 22 rushing yards on two carries with a long run of 20
Enrolled at West Virginia in January 2014
2013 (Freshman) – Riverside City College
Transferred from Stephen F. Austin after spring 2013
Starting quarterback for coach Tom Craft at Riverside City
Helped lead Riverside to a 10-2 record, the National Division Central Conference Championship and advance to an appearance in the California State Championship game
Completed 219-of-325 passes (67.4 percent) for 3,151 yards and 33 touchdowns
Averaged 262.6 yards per game and 9.7 yards per attempt and only threw six interceptions
Completed 17-of-19 passes for 198 yards and three touchdowns against Golden West in the Southern California Bowl Game
Threw for 249 yards and two touchdowns and ran for 39 yards against Mt. San Antonio in the conference championship game
Completed 27-of-35 passes for a season-high 448 yards and a season-high seven touchdowns against Los Angeles Harbor
Completed a season-high 28-of-41 passes for 296 yards and four touchdowns against Desert College
Threw for 359 yards and three touchdowns and ran for two more against El Camino in a 48-25 victory
High School
Played for coach Paul Sharr at Brewer High
Named 2012 All-District 5-4A First Team Offense
Completed 126-of-238 passes for 1,377 yards and 13 touchdowns as a senior
Also ran for 597 yards on 120 carries, averaging 5.0 yards per rush and scored eight touchdowns
During his three-year career, threw for 4,171 yards and 32 touchdowns
Also ran for 1,268 yards and 13 touchdowns
Personal
Birthday is November 6
Son of Deidre Kelley
Working on his master's degree in integrated marketing communications
Graduated in August 2015 with his bachelor's degree in communication studies
Garrett Ford Academic Honor Roll
Big 12 Commissioner's Honor Roll
References
When looking at this draft class there may not be a prospect who played at a higher level at the most important position in one of college football's top conferences than Howard.
Zero offers leaving high school and believed in his ability to play quarterback so much that he left Stephen F. Austin because being a back-up was not in his future.
He left for Riverside City in California were he quickly established himself and demonstrated the knack and know how to play successfully at quarterback. His arrival at West Virginia continued his climb as he once again proved all doubters wrong.
The Forth Worth, Texas native went 4-0 against schools from his home state which also reveals the chip on his shoulder to those who left him empty handed with scholarships.
Howard lacks the ideal size preferred by the NFL teams to play quarterback at the next level but exceeds in every other expectation with his impressive intangibles.
A respected team leader and captain, he has shown the ability to carry the team from behind to win the game. Great production via his arm and legs, Howard naturally commands a huddle.
Howard has the 'It' factor those traits and characteristics that simply lie beneath the numbers of height and weight. He shows the lateral quickness to sidestep and elude the rush and can throw an accurate strike on the move. His feel for the game, nice touch, timing and anticipation.
If the NFL does not identify his skill set he'll definitely draw the attention from the CFL. A winner with fight who could battle for the No. 3 job in camp.