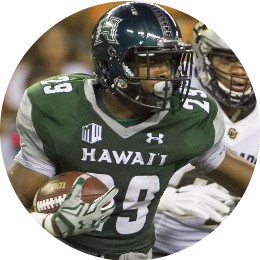 School:  Hawaii
College Experience: Senior
Height/Weight: 5'10" / 208
All-Star Invite: N/A
Twitter: @Cinco_ballout
40 YARD DASH TIME :: 4.55
225 BENCH REPS :: 8
VERTICAL JUMP :: 34
BROAD JUMP :: 9'10"
SHUTTLE :: R 4.23 L 4.27
3-CONE :: N/A
2015 (Junior): Appeared in 12 games, starting in 10, only missing action against San Diego State (Oct. 10)…made his first NCAA start in front of his hometown crowd at No. 1 Ohio State (Sept. 12), rushing for 46 yards…led the team with 197 carries for 1,132 yards, becoming the first 1,000-yard UH rusher since 2010 and only the second since 1992…ranked fifth in the Mountain West and 44th nationally with a 5.7 yards per carry average and averaged 94.3 yards per game…tied Melvin Davis for the team lead with six rushing touchdowns, tying for second among UH scorers…tied the program record for consecutive 100-yard rushing games with four, and has the opportunity to claim the record in 2016…registered six total 100-yard rushing games, the most for a UH back since 1992…broke a 60-year old record, turning in the longest touchdown rush against UC Davis (Sept. 19), breaking through traffic and cutting down the right sideline for a 95-yard score, highlighting a 147-yard performance…set a season high in rushing at UNLV (Nov. 7) with 190 yards on only 20 carries…exceeded 26 carries for the next three games, including a season-best 28 touches for 179 yards…in the season-ending win over Louisiana Monroe, he logged 27 carries for 166 yards before an injury forced him out of action just seven minutes into the third quarter…scored a season-high two touchdowns amidst a 114-yard game at New Mexico (Oct. 17)…also made 14 receptions for 151 yards, ranking sixth in team receiving…made a season-long 51-yard catch on a trick play at No. 21 Wisconsin…also served as kick returner early in the season, taking eight kicks for 138 yards and a 17.2-yard average, logging a long return of 25 yards in the season-opening win over Colorado (Sept. 3)…named the team's Offensive Player of the Year.
Prior To UH: Attended Ventura College in California for two years…named All-America as a kick returner by the JC Athletic Bureau and the California Community College Football Coaches Association…also selected Region III all-state first team and first-team all-conference…rushed for 499 yards (8.5 avg.) and four touchdowns, with 12 receptions for 113 yards and another score…also averaged 35.1 yards on 20 kickoff returns with three touchdowns…during his freshman year, was a unanimous first-team all-conference selection as a return specialist…averaged 26.7 yards per kickoff return and rushed for 283 yards (6.4 avg.) and one touchdown…before VC, Harris initially attended Toledo and was a walk-on for football.
Prep: A 2011 graduate of Marion-Franklin High School in Columbus, Ohio, playing two seasons of varsity football…named second-team all-state and first-team all-conference during senior year…rushed for 785 yards (11.2 avg.) and 10 touchdowns, recording 1,468 career yards with 23 total touchdowns…attended Reynoldsburg High School during his freshman and sophomore years…named first team all-Columbus City – South and second team all-state in 2010…also ran competed in track & field for MFHS.
Personal: Born in Columbus, Ohio…Nickname is "Housecall"…majoring in sociology…has three younger brothers…parents are Paul Harris and Nina Taylor of Reynoldsburg, Ohio.
Harris looks the part and displays good patience with a muscular frame. Tough and fights for yards with the ability to make people miss. Runs with good body lean and has a strong base. He has good feet and shiftiness in between tackles and usually can avoid first contact. Can get to the edge and get vertical. He adds some value as a pass catcher and can return on special teams.
He is a slippery runner with good anticipation of seeing holes open. Harris is a priority free agent prospect who can establish himself in the dog days of summer. Productive when given the carries after recording 1,000 yard year in his first season at Hawaii and remains relatively intact with little wear and tear.