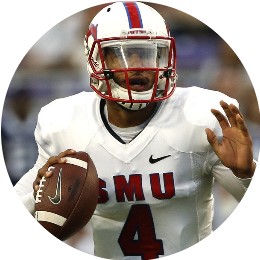 School:  SMU Mustangs
College Experience: Senior
Height/Weight: 6'1″ / 217
All-Star Invite: N/A
Twitter: @That_DavisGuy
40 YARD DASH TIME ::
225 BENCH REPS ::
VERTICAL LENGTH ::
BROAD JUMP ::
SHUTTLE ::
3-CONE ::
Senior (2016): Davis was hurt in the season opener against North Texas with an ACL injury and was lost for the season He is currently 100% ready to go and throw at the schools up-coming Pro Day.
Junior (2015): Played in all 12 games, starting 11… Recorded 2,263 passing yards and rushed for 761 yards… Had 16 passing touchdowns and 10 rushing touchdowns, making it the fifth most in program history for touchdowns responsible for… Tied for second on the team in points scored with 60… Had four 100-yard rushing performances… HONORS: Was named to the American Athletic Conference Honor Roll twice.
Sophomore (2014): Played in 10 games and started the final five at quarterback… Totaled 855 passing yards and 613 rushing yards… Had three passing touchdowns for the season, including a 64-yard connection with Der'rikk Thompson at Tulsa and a 67-yarder to Jeremiah Gaines against Houston… SCHOOL RECORDS: Set the two highest rushing totals by a quarterback in SMU history, running for 191 and a touchdown at Connecticut in SMU's 27-20 victory, as well as rushing for 181 yards at Tulsa with two touchdowns… Also had 212 passing yards and 393 yards of total offense at Tulsa, tying for the 17th-most yards of total offense in a single game in SMU history… Davis' 191 rush yards against UConn tied him for the 13th-most in a game by any player in SMU history… HONORS: Was named to the American Athletic Conference Honor Roll twice.
Freshman (2013 at Tyler JC): Appeared in seven games… Was named the Southwest Junior College Football Conference and National Junior College Athletic Association (NJCAA) Offensive Player of the Week after leading TJC to a come-from-behind win over Blinn… After going down 28-24 with 1:25 remaining, Davis led the Apaches on a six-play drive and rushed for a TD with 19 seconds left on the clock, giving TJC a 31-28 win;
2012 (at Texas A&M): Redshirted.
Prep: Earned District 13-5A Co-Offensive Player of the Year honors as a sophomore after completing 100 out of 171 passes for 1,393 yards and 14 touchdowns, as well as running the ball 190 times for 1,427 yards and 22 touchdowns… After missing his junior year due to a knee injury, he returned for his senior year and amassed 1,483 yards and 13 touchdowns through the air while rushing for another 931 yards and 12 TDs… Earned a spot in Division 13-5A's second-team All-District squad… A 4-star recruit by ESPN.com, Rivals.com, 247sports.com and Scout.com… Rated No. 107 overall and the No. 6 quarterback in the ESPNU 150… Rated No. 119 overall and No. 3 among quarterbacks by Rivals.com… Ranked No. 5 dual-threat quarterback nationally by 247sports.com… Ranked No. 6 quarterback nationally by Scout.com… Rated by SuperPrep as the No. 1 quarterback and No. 16 player overall from Texas… Also part of the SuperPrep All-American 290 as the No. 6 quarterback… Ranked No. 21 on the Austin American-Stateman's Fab 55… Held offers from Auburn, Arkansas, Alabama, LSU, Nebraska, and Oklahoma State; Personal: Son of Ginny and Howard Davis.
"I've been getting a good amount of interest from ball clubs," said Davis. There are no limitations from his knee and he is ready to go through the full amount of work necessary at his up-coming Pro Day. Davis is a team oriented quarterback who attended all team meetings and games even after he was hurt on September 3rd against North Texas.
A bit undersized, Davis possesses good football intelligence has been able to adapt quickly and succeed during his different stops in college. He has dual-threat ability via his arm and legs. Sets his feet quickly and has a nice over the top release. Is patient in the pocket even though he possesses the ability to big up large chunks of yardage rushing the ball.
Fleet of foot and can side step the rush to extend plays when looking down field. Smart and mature and studies the game. Puts decent touch on his passes and has shown the knack time and time again to improvise. Davis is not for everyone due to his height but he does possess some quality intangibles to find himself in camp. High character individual and driven.