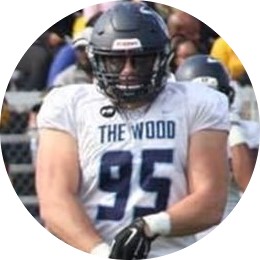 School:  Northwood
College Experience: Senior
Height/Weight: 6'2″ / 232
All-Star Invite: N/A
Twitter: N/A
BROAD JUMP 10'4″
SHUTTLE 4.11
3-CONE
"I'm pretty mentality bullet-proof," says Schultz. "When you get laughed at by the head coach at time, he chuckled at me when I weighed in. When you kind of get laughed at and kind of made a joke of it gets you pretty pissed."
That was the initial embrace Schultz received as a walk-on at Northwood weighing roughly 199 pounds soaking wet. He knew the only way to get on the field was to hit the weight room and increase his dedication to the craft.
Schultz has had limited snaps at Northwood but does possess above average athleticism. His NFL Regional Combine numbers are comparable to some of the top prospects sent to Indianapolis.
He has weighed as much as 259 playing defensive end but currently resides around 232 as the switch to linebacker is the projected for him to get a shot at the next level. His size does play for a CFL opportunity which may be his ultimate path to playing professional football.
Schultz said he is "self-made" and that speaks a lot of truth to the Northwood prospect. A raw athletically gifted athlete who kind of relishes and I think excels at being the underdog.
"I'm living day to day," Schultz said and added, "I got no 'Plan B really."
Hard to count against a guy who is all in…