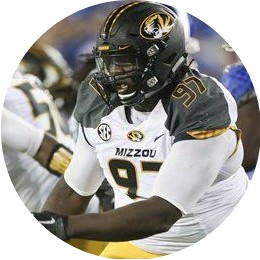 School:  Missouri
College Experience: Senior
Height/Weight: 6'5″ / 347
All-Star Invite: East West Shrine
Twitter: @mizzousavage
40 YARD DASH TIME ::
225 BENCH REPS ::
VERTICAL LENGTH ::
BROAD JUMP ::
SHUTTLE ::
3-CONE ::
2016 SEASON
Played in all 12 games during his senior season and was disruptive along the interior of the defensive line … Accumulated 23 total tackles (15 solo), including 4.0 tackles for loss and a sack … Also added a QB hurry and a pass break-up … Recorded two tackles, including one for a loss, in Mizzou's season-opening game against West Virginia (9/3) … Tallied a sack with a season-high five tackles in Mizzou's win over Eastern Michigan (9/10) … Recorded one tackle in Mizzou's SEC opener against Georgia (9/17) … Has also been featured as a fullback in short-yardage situations this year, picking up three key first downs while carrying the ball and he also freshman RB Damaraea Crockett for his first career TD on fourth down vs. Eastern Michigan (9/10), blocking two men at once downfield … Recorded three tackles in Mizzou's game against Florida (10/15) … Scored his first career TD on a one-yard TD plunge on third and goal at Florida (10/15), cutting the lead to 20-7 … Ran twice in short-yardage situations, picking up first downs on both carries, and also paved the way for a Damarea Crockett touchdown on a goal line block, taking out two men, against Middle Tennessee (10/22) … Rushed for a one-yard touchdown at Kentucky (10/29) to record his second touchdown of the season … Contributed on the defensive side of the ball, tallying three tackles, one solo, at Kentucky … Posted four tackles including one for a loss at South Carolina (11/5) … Tabbed a solo tackle against Vanderbilt (11/12) … recorded three tackles (one solo) at Tennessee (11/19) … tallied a solo tackle and a pass break-up in the Battle Line Rivalry against Arkansas (11/25).
2015 SEASON
Emerged as a dominant threat on the defensive line with 27 tackles (17 solo) in his first year as a starter, starting all 12 games … Posted a career-best four tackles on two separate occasions – vs. Mississippi State (Nov. 5) and at Arkansas (Nov. 27) … Tallied 8.5 tackles for loss on the year with multiple tackles-for-loss in three games, including a career-best two against both UConn (Sept. 19) and Mississippi State (Nov. 5) … Had three consecutive games with a tackle-for-loss beginning with South Carolina (Oct. 3).
2014 SEASON
Appeared in all 14 games as a sophomore and tallied 23 tackles, 4.5 tackles for loss, one sack, an interception and three quarterback hurries … Had a career-high four tackles, one sack and a forced fumble at Tennessee (Nov. 22) … Had a pair of tackles (one solo, one assist) at Texas A&M (Nov. 15) … Had a then career-high three tackles vs. Vanderbilt (Oct. 25) … Intercepted a deflected UCF pass to make one of the plays of the college football weekend in 3Q action of the 38-10 win (Sept. 13), also making 3 stops and forcing a fumble that was returned 60 yards by Duron Singleton for the final score of the game … Two tackles, including 0.5 tackle-for-loss, in the season-opening, 38-18, win vs. South Dakota State (Aug. 30).
2013 SEASON
Appeared in all 14 games as a true freshman … tallied his second sack of the year at home against Arkansas State (Sept. 28) … recorded personal single-game bests of three total tackles, two tackles for loss and one sack in Mizzou's opening game against Murray State (Aug. 31).
HIGH SCHOOL
Highly-touted defensive lineman who also showed his skills at tight end for Peoria High School and head coach Tim Thornton … rated No. 161 in ESPN.com's "ESPN300" list of top recruits in the nation and was ranked the seventh-best recruit in Illinois' class of 2013 by the website … rated as the No. 9 recuit in Illinois' class of 2013 by Rivals.com … selected to the 2013 Semper Fidelis All-American Game … named First Team Class 5A All-State at tight end and defensive line by the Illinois Football Coaches Association as a senior in 2012 … two-time Peoria Journal-Star All-Area honoree … recorded six sacks in his final Lion season … considered the No. 16 defensive tackle in the country by ESPN.com and No. 29 by Rivals.com … earned letters in track & field as a sophomore and junior for the Lions, claiming the 2012 Class 2A shot put championship with a throw of 61-05.75 … played basketball as a junior.
PERSONAL
Chose Mizzou over several prominent programs, including Michigan, Michigan State, Ole Miss, California, Illinois, Iowa, Nebraska, Notre Dame and Oklahoma … plans to enroll in the College of Architecture at Mizzou … cited the Tigers coaching staff and the university's academic reputation as reasons for coming to Columbia.
Last year in high school he was playing defensive end and receiver which begins to reveal back the athleticism in this massive plugger of the interior. Augusta has tremendous size and athletic ability. His ballooning weight is his Achilles heel where he tipped the scales at 390 pounds his senior season at Missouri.
Augusta has proved through diligence and hard work the ability to shed those extra pounds and is 347 leading up to his Pro Day which he may end up even lighter. Those lost pounds only enhance the athletic prowess possessed by the Peoria, Illinois native and allowing him to flourish.
Strength to neutralize double-teams and pushes the pocket. Augusta has natural brute strength and uses his hands well to get of blocks. Very athletic for his size and if comes close to matching some of his Pro Day predictions he'll be trending on Twitter (March 24th) for running a 4.8 forty. A team like the New York Giants could find him interesting because they prefer massive interior linemen.