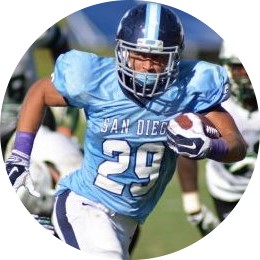 School:  San Diego (Transfer Cal)
College Experience: Senior
Height/Weight: 5-9 / 190
All-Star Invite: FCS Bowl
Compares Too: Darren Sproles
Twitter: @jhodges831
40 YARD DASH TIME ::
225 BENCH REPS ::
VERTICAL LENGTH ::
BROAD JUMP ::
SHUTTLE ::
3-CONE ::

NOTABLE: Set USD single game rushing record with 273 yards rushing against Stetson (Oct. 11, 2014).
USD: Third year player will start on offense at running back… In 2015 broke his collarbone in opening game at SDSU… Returned to play in final three games… Finished with 141 yards rushing on 34 carries (4.1 yards per carry average)… In win over Campbell he rushed 15 times for 79 yards… In road win at Davidson he totaled 37 yards including a 2-yard TD run… Named to 2015 PFL Honor Roll… In 12 starts in 2014 he carried the ball 221 times for 1,214 yards (101.2 yards per game) with six touchdowns… Besides his record breaking performance against Stetson, he also cracked 100+ yards rushing on three occasions – Western New Mexico (120 yards), Morehead State (160 yards) and Valparaiso (168 yards)… Caught 20 balls for 154 yards and returned 24 kickoffs for 456 yards (19.0 yards per return)… Named All-PFL First Team, USD's Offensive MVP, and USD's Strength Coaches Award… 2014 PFL Honor Roll.
COLLEGE: Attended Cal for two seasons (2012, 2013) where he competed with the Bears football team… Was a redshirt in 2012, and in 2013 came off the bench in two games (Oregon State & USC)… Against the Trojans he rushed four times for 31 yards (7.8 yards per rush).
HIGH SCHOOL: Attended Santa Cruz HS where he played under coach Bubba Trumball… Played three varsity seasons, earning All-Santa Cruz County honors in each of his final two campaigns as a junior (2010) and senior (2011)… Senior year rushed for 1,565 yards and 20 TDs on the ground, finding the end zone at least twice in seven of the 10 contests… Rushed for 234 yards and 3 TDs vs. North Salinas, and 238 yards and 4 TDs vs. Harbor… Junior year rushed for 778 yards and 8 TDs… Also earned lettered in basketball (3 years) and track and field (4 years).
PERSONAL: Born on October 24, 1993 in San Francisco, California… Parents are Mark and Jennifer Hodges of Santa Cruz, California… Chose USD for the football program… In his free time he enjoys playing basketball with friends, spending time with family & friends, and hopes to play football after USD.
MAJOR: Political Science.
Hodges came from a small area in Santa Cruz, California coming out of high school which hampered the amount of eyes able to watch him in the recruiting process. Was a preferred walk-on at Cal before finishing his collegiate career at San Diego. He was part of a group that helped lead the Toreros to their first ever playoff win in the schools history.
The team MVP was also named an All-American (FSC) and invited to the Gridiron Showcase. It is there he'll be able to showcase the special talents he possesses at the running back position. Good athletic ability with nice vision. Hodges has very good balance and body control. Hodges, can weave through traffic along with the inside toughness to carry the football. Soft reliable hands coming out of the backfield. Good burst, but is not a burner.
The PFL Offensive Player of the Year, finished with 1,454 yards rushing and 18 rushing touchdowns. He also led the PFL in all-purpose yards per game (175.3) and added 53 receptions for 518 yards and 2 scores, in his final season at San Diego. The comparison of Darren Sproles and Danny Woodhead are used the most is identifying his talents. Another name to keep in mind in comparions is Pittsburgh Steelers Fitzgerald Toussaint, due to the size and ability.
This is a young man who is going to impress not only on the field but in the one-on-one sit downs with NFL Scouts. He is a mature, high character athlete. Unselfish, team oriented leader with great work ethic. In the schools first ever playoff win he totaled 171 yards rushing and 3 touchdowns in the team's win over Cal Poly.
More than a situational running back, but will be used in that role due to his size. Can play special teams as gunner or return man and is simply a great football player and competitor. Hodges is going to be a late-round prospect, but definitely a guy who eventually sticks on the 53-man roster. A genuine personality and guy who will put the organization before themselves.