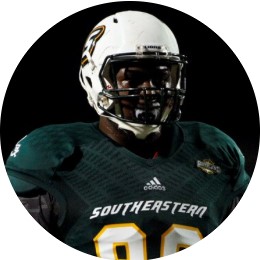 School: Southeastern Louisiana (Transfer Georgia, Alabama
College Experience: Senior
Height/Weight: 6'5″ / 340
All-Star Invite: N/A
Compares Too: Dontari Poe
Twitter: @Jontaylor094
40 YARD DASH TIME ::
225 BENCH REPS ::
VERTICAL LENGTH ::
BROAD JUMP ::
SHUTTLE ::
3-CONE ::
Prior to Southeastern: Four-star prospect out of Copiah-Lincoln Community College … Ranked No. 4 junior college defensive lineman by 247Sports.com … Finished with 40 tackles, 11 tackles for loss and 4.5 sacks as a sophomore at Co-Lin … As a redshirt freshman at Georgia, played in 10 games … Recorded nine tackles, a sack and 1.5 tackles for loss for the Bulldogs … All-State, SuperPrep All-America and All-Dixie performer at Jenkins County High School … Received a consensus four-star prospect out of JCHS … Member of the ESPNU 150 … Played in Under Armour All-American Game.

– Have you ever been arrested or have a criminal record?
ER – No arrest

– Where you a team captain in college?
ER – Team captain yes

– How many games did you miss due to injury (College)?
ER – 1

– How many concussions have you had or known of?
ER – 1

– How many games did you start?
ER – 37

– What is the most positive words spoken by your head coach about your game?
ER – I'm more than a camp body.

– Projected 40-time at Pro Day?
ER – Low 4.4's high 4.3's
Taylor was a very highly recruited defensive lineman out of the state of Georgia while attending Jenkins County High School. Taylor originally began his collegiate career at Georgia under former Bulldogs head coach Mark Richt. He faced charges of aggravated assault, battery and simple battery stemming from a July 22, 2014 incident with his then-girlfriend. Taylor was kicked off Georgia's football team after being charged and landed at Copiah-Lincoln Community College for a semester.
The standout nose tackle dominated the JUCO scene and quickly was again on the hot list of college prospects available to play at big-time programs. Another SEC program took a liking to Taylor and he was off to Alabama under the direction of Nick Saban. Unfortunately, another ill advised decision off the field left him with little room for error and he was dismissed from the university.
"It was a perfect fit for me," Taylor said when sharing his thoughts on playing at Southeastern Louisiana. "When I arrived their players where awesome they were like family. The coaches were great and Coach Ron (Roberts) he brought me in under his wing. Coach (Brandon) Lacy the D-line coach. He brought me in under his wing and taught me all the techniques."
Blessed with tremendous natural strength, Taylor is devastating to contain at the line of scrimmage. The film does not lie about his potential, but convincing NFL teams he is good to go, is something Taylor knows will face him during this push to the NFL Draft.
"I know the questions are going to come," Taylor said. "I want to prove to teams that I made mistakes on the way. I was 19 when I made those mistakes and I do take full responsibility for those mistakes. I want to be part of the team and organization and show them that I'm a much better person and have grown and learned from my mistakes."
Taylor is going to impress teams not only for his athletic prowess but also his mature demeanor. The 6-foot-5 and 340 pound nose tackle kept clear of issues and is allowing his football skills to take center stage again.
Watching him you're going to see a wide body interior force that moves well for his size. Good initial quickness and ability to demand double teams and plug running lanes. He is capable of sinking his hips and maintaining the line of scrimmage. His short-area burst and hustle allows him to take over games at times.
Obviously, character will affect his draft value, but smart NFL teams will realize he is a genuinely good nature of his young man who learned and dealt with early miscues to arrive ready to go when it matters most. Taylor graduated (December 10th), it allows his to squarely focus on the NFL Draft and reaching his peek performance for Pro Day and private workouts.
Taylor has a ways to go before he is at the level of one of the NFL's best whom he admires to watch in Dontari Poe, but his massive frame and athleticism would certainly draw comparisons during the up-coming months.