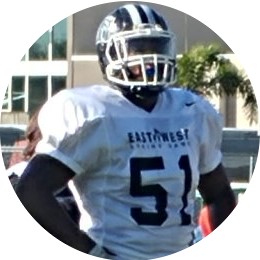 School:  Jackson State Tigers
College Experience: Senior
Height/Weight: 6'1″ / 245
All-Star Invite: East West Shrine Game
Twitter: @TheRealJavJones
40 YARD DASH TIME ::
225 BENCH REPS ::
VERTICAL LENGTH ::
BROAD JUMP ::
SHUTTLE ::
3-CONE ::
One of the most talented small school prospects in the entire up-coming NFL Draft class. Jones brings a ton of versatility and athleticism to the defense. Leaving high school he had offers from Duke, Stanford, Vanderbilt and Jackson State to name a few. His mother was diagnosed with three months to live and wanted Jones and his sister and brother to all attend Jackson State. It was important he fulfill his mother's wishes rather the play at other schools.
Jones became a team captain all four years at Jackson State. In his four years with the Tigers he has played under four different defensive coordinators. In that span of time he has played in a 4-2-5, 3-3-4 and 3-3-5 defense along with playing defensive end, inside and outside linebacker. The constant change helped mold Jones into a very versatile player where he exceeded expectations in different roles.
Jones is a super productive fixture on the defensive side of the football. He possesses great athletic ability and size to make it in the NFL. He possesses quick feet. Hustles, chases and pursues with passion. Jones has the ability to drop in coverage and shows nice awareness to jump routes in the secondary. Sideline to sideline speed and takes good angles to the football. Plays with a chip on his shoulder and lacks zero confidence in his ability. Jones keys and diagnoses action quickly and gets to the football. Late-round prospect will a lot of upside to earn a living in the NFL.