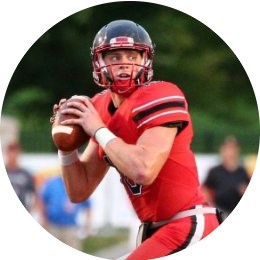 School:  Central Missouri
College Experience: Senior
Height/Weight: 6'3″ / 215
All-Star Invite: N/A
Compares Too: Tim Tebow/Tyrod Taylor/Russell Wilson
Twitter: @gfugate10
40 YARD DASH TIME ::
225 BENCH REPS ::
VERTICAL LENGTH ::
BROAD JUMP ::
SHUTTLE ::
3-CONE ::

In 2016: Fugate was a Second Team All-MIAA pick for the second straight year. The Overland Park, Kan. native led the MIAA in passing averaging 304.6 yards per game. He completed 271 passes, the third most in a single-season in UCM history, while his 3,655 passing yards and 31 touchdowns were also the third most. He racked up 4,112 yards of total offense, the second best mark all-time at UCM. He earned three MIAA Offensive Player of the Week honors as well.
In 2015: Was a Second Team All-MIAA and Third Team Don Hansen's All-Region selection at quarterback, starting all 10 games in which he played … completed 187-of-321 passes for 2,613 yards and 18 touchdowns with only six interceptions … rushed for 519 yards and eight touchdowns on 147 carries … passed for over 300 yards two times, including a 371-yard, two-touchdown performance against Emporia State … also rushed for 113 yards in that game, giving him 484 yards of total offense, second highest single-game total in UCM history … named MIAA Player of the Week after his 448 yards of total offense performance in win over Missouri Southern, 448 yards are fifth highest single-game total … rushed for career-high 178 yards and two touchdowns in win at Central Oklahoma … set single-game (178), season (519) and career (748) records for rushing yards by a quarterback … his 3,132 yards of total offense are the fourth highest single-season total in program history … named to the MIAA Academic Honor Roll.
In 2014: Played in all 12 games as a backup quarterback and punter … was 5-for-9 for 46 yards passing and rushed for 128 yards on 25 carries … went 3-for-3 for 35 yards and rushed for 22 yards on five carries in win over Washburn … punted 39 times for 1,560 yards, averaging 40.0 yards per punt … had a season-long punt of 62 yards in Texarkana Bowl against SE Oklahoma State … had six punts of 50 or more yards and six punts were downed inside the 20 yard line.
In 2013: Appeared in four games in 2013 … rushed 11 times for 101 yards, including a long of 28 in the win at Nebraska-Kearney … named to the MIAA Academic Honor Roll.
In 2012: Did not appear in any games while redshirting … named to the MIAA Academic Honor Roll for his work in the classroom.
In high school: A two-year starter and team captain for the Huskies, Fugate earned all-conference and all-state honors after setting the school's single-season passing record with 2,032 yards and a school record 22 touchdowns … he was a Shrine Bowl selection and a finalist for the Simone Award, which is given yearly to the most outstanding high school football player in the Kansas City Metro Area … a three-year letterman for the basketball team, Fugate has helped the Huskies to a pair of state runner-up finishes and a conference championship … also a member of the track & field team, he anchored the conference champion 4×400 relay team, was second in the conference in the triple jump with a mark of 42'9" … he was a Principal's Honor Roll member and an EKL Scholar Athlete.
Personal: Business major … son of Todd and Kathy Fugate.
Self motivated athlete and decided in high school to develop himself in a real quarterback, not just an athletic guy throwing the football. Fugate received some walk-on offers from larger schools, but in the end his enjoyable visit to Central Missouri secured his collegiate future.
In the fourth quarter of his final game of his senior season, Fugate suffered an ACL tear and has undergone surgery and is ahead of schedule. A harsh blow for any prospect especially one with significant NFL upside.
"Ahead of schedule already," Fugate said regarding his rehab and may begin throwing as early as next week (January 15th, 2016).
Fugate ranks near the top 10 of 2017 quarterback prospects. Quick reminder, Denver Broncos Trevor Siemian tore his ACL his senior and was drafted in the seventh round of the 2015 NFL Draft.
He spent time working with quarterback guru George Whitfield, which allowed him to work several other current 2017 NFL Draft quarterback prospects.
Good height and weight with a durable frame. Fugate is dual-threat pocket passer able to big up chunks of yardage via his arm or legs. Above average arm strength and knack to develop plays after the call breaks down. Fugate displays the ability to make all the throws necessary to succeed at the next level.
Accustomed to rolling out of the pocket he delivers on target passes downfield. Has the size and moves well to avoid and escape. Has an NFL arm and the back shoulder fade is favorite throw, and can snap off throws. Fugate also has ability to punt.
Holds several quarterback school records in the weight-room. He has hand cleaned 335 three times which is projected max of 360. He squatted 500 and benched 340 which is impressive since he arrived at Central Missouri at 170 pounds.
A very functional quarterback, he is a prospect with some very impressive tools to work with and develop. Fugate is a mixture of Tim Tebow (better delivery) and Tyrod Taylor at the quarterback position. He is a gritty competitor, fixated on winning.
After suffering his ACL tear he said he felt he "let the team down" because he was not able to continue. That is the epitome of unselfish leadership qualities and team oriented attitude.