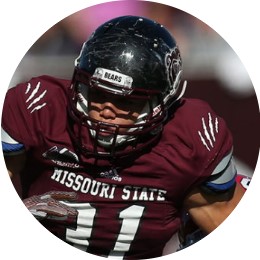 School:  Missouri State
College Experience: Senior
Height/Weight: 6'1″ / 235
All-Star Invite: NFLPA Game
Compares Too: Avery Williamson, LB, Tennessee Titans
Twitter: @dylancole31
40 YARD DASH TIME ::
225 BENCH REPS ::
VERTICAL LENGTH ::
BROAD JUMP ::
SHUTTLE ::
3-CONE ::
ALL-AMERICA CANDIDATE
2016 STATS FCS Preseason All-America
2016 STATS FCS Defensive Player of the Year Preseason Watch List
2016 Preseason All-MVFC
2017 Reese's Senior Bowl Watch List
2015: Had a stellar junior campaign in which he earned All-MVFC First-Team honors and led the club in total tackles in every game … Finished with 152 total tackles to lead the Valley … Started all 11 games at Will linebacker … Averaged 15.4 total stops per outing during league play … Was the MVFC leader in tackles per game (13.8), which ranked third among all NCAA Division I FCS defenders … Logged 9 double-digit tackle games and averaged 6.6 solo tackles per game, which was tops in the conference and No. 5 nationally … Also led the Bears, ranked sixth in the Valley and 65th nationally in tackles for loss per game (1.1) with 12.0 for the season … Completed the season with seven straight double-digit tackle performances and 152 total tackles, which was good for No. 7 on the Bears' single-season list … Named the HERO Sports FCS Defensive Stud of the Week following his 21-tackle day against South Dakota (10/24/15) … Logged a conference season-high of 23 tackles No. 19 UNI (11/14/15) … Also logged 14 solo tackles and 21 stops overall at South Dakota (10/24/15) … Was in on 2.5 tackles for loss and a sack with 18 tackles against South Dakota State (10/31/15) … Tallied 9 solo stops and 12 overall at Youngstown State (11/7/15) with a pair of TFLs … Against the team's two FCS foes, he combined to tally 13 total solo stops and 19 tackles in all at Memphis (9/5/15) and Arkansas State (9/19/15) … Was a Preseason All-MVFC selection … Participated in a mission trip to help orphans in the Dominican Republic in April … Also earned Academic All-MVFC first-team honors … Named to MSU Athletic Director's Honor Roll for fall 2015 and spring 2016 semesters … Had 6 solo tackles, a TFL and an interception in the Maroon and White Spring Game (4/11/15).
2014: Started all 12 games as a sophomore and earned All-MVFC honorable mention honors … Brought down 92 ball carriers which ranked second on the team and 105th nationally — 11th in the MVFC … His 14.5 tackles for loss were 5th in The Valley and 56th nationally … Posted at least 7 tackles in 8 games … Posted season-high 12 total tackles vs. South Dakota (10/18/14) with 5 solos … Had MSU record 6 tackles for loss, 8 total stops, 7 solos and a sack at Oklahoma State (9/6/14) to earn CFPA National LB of the Week, MSU Media Player of the Week and MSU Defensive Player of the Week honors … Also had 7 solos and 9 total stops with a TFL in win at Northwestern State (8/28/14) … Had interceptions in back-to-back games vs. Youngstown State (10/4/14) and at South Dakota State (10/11/14) … Earned CFPA National LB honorable mention and MSU Media Player of the Week honors for YSU game … Was in on 8 tackles, 2 for loss and a sack at Indiana State (11/1/14) … Notched 9 tackles, including a forced fumble and 3 TFLs in the Maroon and White Spring Game (4/26/14).
2013: Started all 12 games at Sam linebacker as a redshirt freshman … Was MSU's only freshman player on the Missouri Valley Football Conference All-Newcomer Team … Ranked 26th in the MVFC in tackles per game (5.9) and was 5th on the club in total stops (68) while ranking 2nd among all Bears in tackles for loss (6.0) … Was named MSU Media Player of the Week for home game against Central Arkansas (9/21/13) after he tallied 10 tackles against the UCA Bears along with his first career interception … Logged 10 stops at South Dakota (10/5/13) with a season-high 7 solo stops and 2 tackles for loss … Posted 6 solo tackles and a pass break-up in win at Western Illinois (10/26/13) to earn MSU Defensive Player of the Week … Had season-high 12 total stops against Northern Iowa (11/16/13) in season finale with 1.5 tackles for loss … Named to Athletic Director's Honor Roll for fall 2013 and spring 2014 semesters as well as MVFC Commissioner's Excellence Award and MVFC Honor Roll.
2012: Redshirted his first year at Missouri State … Named MSU Defensive Scout Team Player of the Year by the coaching staff … Earned Defensive Scout Team Player of the Week honors for week of South Dakota (10/13/12) victory … Also landed a spot on the MSU Athletic Director's Honor Roll during the fall 2012 and spring 2013 semesters … Registered 7 tackles, 3 solo, and forced a fumble in the Maroon and White Game (4/20/13).
High School: Was a Missouri Class 3 consensus all-state running back after he compiled 2,002 rushing yards on 225 carries for 33 touchdowns for the state champions at Logan-Rogersville High in 2011 … Also caught 23 passes for 511 yards and another 10 scores for the Wildcats and coach Doug Smith … Logan-Rogersville was 14-1 his senior year … Registered 102 total tackles, 7 for loss and a pair of interceptions as a senior at linebacker … Rushed for 75 yards and had 5 tackles in the 2011 Show-Me Bowl win over John Burroughs in St. Louis … Named MHSFCA Offensive Player of the Year in 2011 as well as Central Ozarks Co-Offensive Player of the Year and SWMFCA Offensive Player of the Year … Was also all-conference, all-region, All-Ozarks and all-district at both RB and DB in 2011 … Carried 210 times for 1,492 yards and 18 touchdowns as a junior with 1,816 all-purpose yards and 20 scores … Was a third-team all-state RB in 2010 as well as all-district, All-Ozarks, all-region and all-conference … Played for four state playoff teams and three district championship teams and finished his career with 4,172 rushing yards and 61 ground touchdowns … Also competed in math competitions in high school.
Personal: Dylan McKalob Cole was born 5/19/94 in Springfield, Mo. … Son of Tacoma Bailey and Traci Cole of Rogersville, Mo. … Has three siblings — Devon, Daelyn and Danae … Majoring in Sales Management.
Recruited out of Logan-Rogersville High School in Missouri as simply an athlete. Other schools viewed Cole as a running back but the Bears'coaching staff saw Cole as a linebacker in the waiting.
Arriving as a freshman at 190lbs. he quickly began to transform his body mass and played as high as 246 during his senior season. Well versed in all facets of the position he is a four down player and shows above average ability to cover space.
The first positive trait for Cole is diagnosing plays and tracking down the football. He led the Bears' defense in tackles in 2015-16. His prowess to make plays on the ball carrier behind the line of scrimmage are also strong suit to his game.
Where Cole excels quietly is his ability to drop in coverage and make plays on the ball. His sideline t0 sideline speed is truly one of his best attributes to playing the linebacker position.
He is fluid in changing direction and shows a burst. Solid tackler, who boasts excellent workout numbers with 32 reps of 225 on the bench. Hustles, and gives maximum effort in pursuit.
His speed and angles to the football are going to be the difference maker to get to the next level. Cole is a mid-to-late draftable prospect with the athletic ability to immediately contribute on special teams and develop into a quality linebacker.