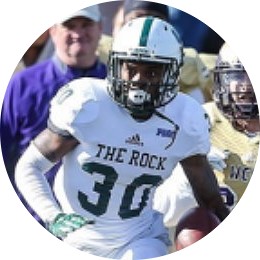 Deonte Flemings NFL Draft
School:  Slippery Rock
College Experience: Senior
Height/Weight: 5'9″ / 177
All-Star Invite: N/A
Twitter: @DeonteFlemings
40 YARD DASH TIME :: 4.43 Temple Pro Day
225 BENCH REPS ::
VERTICAL LENGTH ::
BROAD JUMP ::
SHUTTLE ::
3-CONE ::
2015: Appeared in 13 games for The Rock, starting in eight of them … Recorded 50 tackles (39 solo/11 assisted) … Ranked fourth on the team in solo tackles, recording a season-high seven against Mercyhurst … Had two tackles-for-loss … Forced one fumble against California (Pa.) … Had four interceptions accumulating 48 yards … Recorded 15 pass break ups, three apiece against Clarion and Virginia Union … Blocked two kicks against Gannon … Returned three kicks against Indiana (Pa.) for 59 yards … Game-by-Game Statistics.
Before The Rock: Played junior college football at Butte College in California … same junior college as Aaron Rodgers … Recorded seven interceptions in sophomore year at Butte.
Flemings has never been the biggest kid on the playground or gridiron but he has been one of the fastest and also one of the toughest. There is plenty of fight and desire in this Erie, Pennsylvania native and that is also why he has an invite to the New York Giants Local Pro Day.
Grades hampered his initial recruiting chances and ended up heading west to play at Butte Junior College which helped Flemings get acclimated to college life as a student-athlete.
He excelled with Roadrunners and began getting noticed by other schools in particular Slippery Rock. The ability to return home was an easy one for Flemings who knew family and friends would be able to see him in action on football Saturday.
Blessed with God given speed (4.3 on a good day) he will immediately attract the attention of NFL Scouts. Undersized but surprisingly willing hitter and not afraid of contact evidence by the 50-plus tackle seasons he put together at Butte and Slippery Rock.
He led Butte in interceptions (7) and returned four to the house while helping the Roadrunners win a championship. That resume of work helped land Flemings back home in the state of Pennsylvania to play in the PSAC.
Flemings has those good quick twitch traits and reacts quickly, popping out of his breaks. Good fluid back pedal, footwork and agility. Played plenty of man coverage were he was left to take care of business with little help. Natural ball skills and feel for the position.
Add another inch and 10-pounds to his frame and he is going mid-rounds. He has the talent just will face questions on his size. He is a late-round draftable prospect or priority free agent who can really seal the deal with a blazing forty-time.