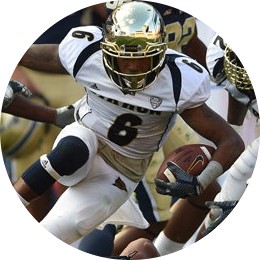 School: Akron
College Experience: Senior
Height/Weight: 5'11" / 194
All-Star Invite: Tropical Bowl
Compares Too: Robert Alford
Twitter: @Deandrescott_6
40 YARD DASH TIME ::
225 BENCH REPS ::
VERTICAL LENGTH ::
BROAD JUMP ::
SHUTTLE ::
3-CONE ::
Scott was a multiple recipient of the Harry "Doc" Smith Award given to the best defensive player in the class. It is not solely based from on the field ability but also being a player showing leadership and qualities to enhance the locker room to grow in a positive manner.
Scott initially looks undersized but plays much larger than his compact athletic frame. He displays good hands and attacks the ball in the air. Good zone awareness and can mirrors well in man coverage. Explosive and smart.
A very solid and stout tackler who shows a good tenacity in the run game and is eager to locate the football snap after snap. Smooth transition turning hips and in high school worked out with Joe Haden and took a lot of positive work ethic notes at a very young age with the impression Haden had on him.
Scott has that short-area burst and shows good recovery speed. Footwork is a bit raw and will need touched up, but he brings a lot of solid attributes to the position. Great character guy who will definitely impress during his Tropical Bowl sit downs with NFL Scouts.
Likely a priority free agent at the end of the day but feel once he gets his chance in camp he will establish trust with the coaching staff through his demeanor and ability. A talented and solid young man with upside.