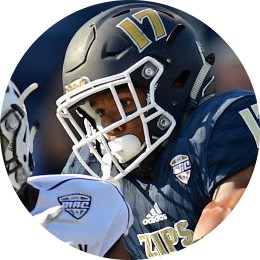 School:  Akron (Boston College Transfer)
College Experience: Senior
Height/Weight: 5'11" / 181
All-Star Invite: N/A
Twitter: @TheJuiceman17
40 YARD DASH TIME :: 4.67
225 BENCH REPS :: 13
VERTICAL JUMP :: 34
BROAD JUMP :: 10'03"
SHUTTLE :: 4.30
3-CONE :: 7.06
Enrolled at Akron in January 2015 … has one year of eligibility remaining … dual-sport athlete … also runs track for the Zips.
As a Senior (2015): Sat out per NCAA transfer rules.
At Boston College: 2014 (Junior): Started in first five games … registered 20 tackles, including 17 solo stops … recorded four tackles with a pass breakup against Pittsburgh … tallied a season-high nine take-downs (eight unassisted) against Southern California, including 1.5 tackles for a loss of five yards … notched four solo stops and an interception against Colorado State. 2013 (Sophomore): Started all 13 games at corner back … also saw action as a return specialist … tallied 62 total tackles, including 44 solo stops, 4.5 tackles for a loss of nine yards, two interceptions, and three fumble recoveries … returned two punts for one yard and one kickoff for 20 yards … earned ACC Defensive Back of the Week honor after a stellar effort in the team's 24-10 home win over Wake Forest; recovered a quarterback fumble on the Demon Deacons 22-yardline that set up a Chase Rettig-to-Spiffy Evans touchdown pass on the ensuing play that lifted the Eagles to a 17-7 lead in the second quarter, then recorded his second interception in as many games late in the second quarter … recorded a career-high seven tackles against Florida State … totaled four tackles against Army … charted five tackles and recovered a fumble at Clemson … tallied six tackles in each of the team's last two regular season games at Maryland and Syracuse … recorded his first career interception in the team's season-opening win over the Wildcats. 2012 (Freshman): Played in all 12 games … contested 278 plays on the season between defense and special teams … recorded 15 tackles, 10 solo, on the year … returned four kickoffs for 96 yards (24.0-yard average) … made four solo tackles at Florida State … tallied three solo stops against Maine … registered a season-long 45-yard kick return at Georgia Tech … posted two tackles and brought back two kicks for 32 yards at NC State.
High School: Two-way player for head coach Jeff Rotsky at Cleveland Heights HS … earned Lake Erie League and team Most Valuable Player honors as a senior defensive back and quarterback in 2011 … recorded 1,388 yards and 12 touchdowns through the air and registered 350 yards and seven touchdowns on the ground during his senior season; tallied 27 tackles, six pass breakups and two interceptions on defense … also served as the team's punter … helped lead the Tigers to a 9-1 season in 2011 with an undefeated 9-0 regular season, winning the Lake Erie League title and the first playoff appearance in the school's history … tallied 1,500 yards and 12 touchdowns through the air, registered 300 yards rushing and tallied five receptions for 105 yards and two touchdowns as a junior quarterback and wide receiver in 2010 … also an accomplished track and field performer for the Tigers … 2012 State Indoor Champion in the long jump … 2012 Lake Erie League Champion in the 110 and 300 hurdles, and the long jump earning All-League Honors and league MVP … also All-Ohio in the 110 hurdles and the long jump …Team MVP … set the school record in the 110 hurdles and long jump.
Personal: Bryce D'Lanie Jones … parents are Karen and Albert Jones … has two older brothers, Chaz and Aric, and younger sister, Dia … Chaz played running back at Virginia Military Institute … organizational supervision major.
Jones took appreciation for the defensive side of the football since he was young. Comes from an athletic family where his mother ran track, father play baseball/football and brother played football.
He displays good ball skills and shows solid pattern recognition and jump routes. Witnessed versus Toledo his ability to mirror shifty quick receivers in their wideout Corey Jones. Plays with confidence and can quarterback the secondary.
Attention to details and aims to understand and identify the other units on defense. High football IQ. Can play inside or out and nickelback. Physical and shows some ability to make plays.
Scrappy and talented enough to be a priority free agent and gain confidence in coaching staffs once camp begins.