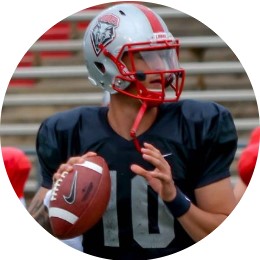 School:  New Mexico (Washington State Transfer)
College Experience: Senior
Height/Weight: 6'2″ / 214
All-Star Invite: N/A
Twitter: N/A
40 YARD DASH TIME :: 4.74
225 BENCH REPS ::
VERTICAL JUMP :: 33
BROAD JUMP :: 10'00"
SHUTTLE :: 4.39
3-CONE :: 7.23
New Mexico: Strong armed quarterback with solid college experience … provided important drives throughout the season … had experience on Branch Field at University Stadium, as he served as a holder for Washington State in the 2013 Gildan New Mexico Bowl, a game WSU lost 48-45 … a 2015 Academic All-Mountain West selection.
2015 (Reshirt Junior Season): Has played in 11 games for New Mexico, starting one (San Jose State) … went 57-for-109 passing with one touchdown and 723 yards … had a long of 81 … also rushed for 44 yards on 33 carries with a long of 15 … started against San Jose State, going 8-for-20 for 130 yards … came off the bench to lead UNM on an epic two minute drill against Hawai'i, going 6-for-10 for 70 yards, hitting Dameon Gamblin for the winning touchdown in the final minute from 28 yards out … Came in for an injured Lamar Jordan against Boise State in the second quarter and went 8-for-12 passing for a career-high 172 yards, including an 81-yard pass to Delane Hart-Johnson … went 8-for-18 against Arizona State for 89 yards … went a near perfect 10-for-12 against Nevada for 82 yards … entered the Gildan New Mexico Bowl in the third quarter and went 7-for-12 for 79 yards, and picked up his first career rushing touchdown.
Junior College – 2014 (Redshirt Sophomore Season): Lettered at Mesa Community College, where he played for Ryan Felker … went 233-of-394 passing (59.1%) for 2,534 yards and 27 touchdowns with nine interceptions, a quarterback rating of 131.2 … averaged 290.8 yards passing in four road games … rushed 40 times for 133 yards with four touchdowns, with a long of 41 yards … was at his best against New Mexico Military Institute, going 29-for-45 for 331 yards with six touchdown passes, and another one rushing as he ran five times for 39 yards … was named the National NJCAA Offensive Player of the Week after that game.
Washington State – 2013 (Redshirt Freshman Season): Saw action in all 13 games for Washington State, but just three as a quarterback (the rest were as a holder on PATs and FGs) … overall went 21-for-42 passing for 187 yards with two touchdowns and two interceptions … had his most effective day against No. 5 Stanford in Seattle, going 15-for-29 for 138 yards and a pair of touchdowns … rushed for 10 yards … had his debut against Southern Utah, going 3-for-7 for 27 yards … went 3-for-6 for 22 yards against Oregon State.
Washington State – 2012 (Freshman Season): Redshirted.
High School: Lettered in football at Silver Creek High School, playing for Mike Apodaca … led the Raptors to the state title game and a 12-2 mark (5-0 in league) as a senior, earning All-Colorado honors by the Denver Post … was also named all-state by Prep Colorado.com … was named the North Conference Offensive Player of the Year … threw for 3,849 yards as a senior, leading the state … added 44 touchdowns, 10 interceptions and nine rushing touchdowns on 203 yards on the ground … after his senior season he was ranked the No. 12 quarterback prospect in the West by Scout.com, and was a three-star recruit from Scout.com … he was also named one of the Denver Post's top 15 seniors to watch … threw for 2,367 yards and 25 touchdowns as a junior, along with 256 rushing yards and three touchdowns as he won his first North Conference Offensive Player of the Year award … Raptors went 8-4 during his junior season, 3-2 in the league … was honorable mention All-Tri-Valley Conference as a sophomore.
Personal: His parents are Mike and Melissa Apodaca … has a sister Amanda, and a brother Andre … birthday is February 22, 1994 … Will major in liberal arts.
Apodaca originally began his collegiate career at Washington State at one of the most predominant passing offenses in the league. He had attention from Oregon and Oregon State during the recruiting process as well as other schools.
He played at the JUCO level at MESA after he left the Cougars. He arrived at New Mexico with plenty of highlight tape because of the limited amount of passes thrown with the Lobos. Take into consideration that he attempted 98 passes in his final season at New Mexico. Compare that to Texas Tech Patrick Mahomes who threw 88 passes in one game in 2016.
Apodaca sets up his feet quickly and shows some nice over the top release in his throws. He anticipates windows opening up on his targets and possesses adequate arm strength. He is smart and mature with some good leadership qualities. Thin frame and lacks ideal NFL size for the position.
New Mexico allowed him to learn to use his legs to extend plays with the absence of passing attempts. Went to NFL Regional Combine and Gridiron Showcase where he has talks with the Atlanta Falcons, New York Jets, Dallas Cowboys, Los Angeles Rams and Denver Broncos.