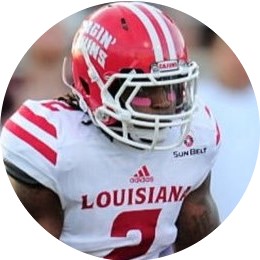 School:  Louisian-Lafayette
College Experience: Senior
Height/Weight: 5'11" / 210
All-Star Invite: N/A
Compares Too: Ty Montgomery
Twitter: @AlRiles2
40 YARD DASH TIME ::
225 BENCH REPS ::
VERTICAL LENGTH ::
BROAD JUMP ::
SHUTTLE ::
3-CONE ::

2016 (Senior): Led the team in recptions (60), receiving yards (729) and added two touchdowns. The next to receivers combined on the team totalled 788 yards, only 59 yards more than Riles has alone.
2015 (Junior): Set career-bests in receptions (46), receiving yards (477) and touchdowns (4), finishing second behind departed starter Jamal Robinson … appeared in 11 games on the season with nine starts … finished fifth in all-purpose yards (481) … caught at least one pass in every game, including a single-game high nine receptions at Texas State (10/10) … recorded his first career 100-yard receiving game with 103 yards on eight receptions and a touchdown at Georgia State (11/7) … caught a season-long 33-yard pass in the first quarter against GSU before capping the drive with a 4-yard TD reception for a 17-7 lead … recorded six receptions with a touchdown against New Mexico State (11/21) … caught five passes, including a 21-yard reception, at South Alabama (11/12) … caught four passes in back-to-back games against Arkansas State (10/20) and ULM (10/31) … added a 17-yard TD reception against A-State in nationally-televised game … earned third letter.
2014  (Sophomore): Moved to wide receiver during spring practice and finished as the team's third-leading receiver … played in all 13 games for the Ragin' Cajuns with 12 starts … caught 34 passes for 354 yards and a touchdown … caught a season-high eight passes for 80 yards in the Sun Belt opener against Georgia State (10/4) … made key fourth-quarter grab on Cajuns' go-ahead scoring drive with an acrobatic 22-yard catch from Brooks Haack … recorded three receptions for a season-high 81 yards, including a season-long 29-yard grab, at Texas State (10/14) … scored on a 16-yard touchdown pass from Terrance Broadway in a Sun Belt road victory at ULM (11/15) … recorded four receptions in home finale against Appalachian State (11/22) … caught at least two passes in 11 games on the season … earned second letter.
2013 (Redshirt freshman): Moved from the secondary to linebacker early in the season, playing every game and making five starts … finished the season tied for seventh on the team with 39 tackles (28 solo), making 3.5 TFL (-7), recovering two fumbles, forcing one fumble and intercepting one pass … played the first three games at safety, starting and making four tackles at Akron (9/21) … added four stops vs. Texas State (10/5) … made the defensive play of the year at WKU (10/15), intercepting a pass on fourth-and-goal and returning it 99 yards for a touchdown to pull the Cajuns to within 10-7 … added five tackles, including 1.5 TFL … started three straight games at linebacker starting with the game at Arkansas (10/22) … had a career-high eight tackles vs. New Mexico State (11/2) … came back to make five stops vs. Troy (10/7) … earned first letter.
2012 (Freshman): Played in three games on special teams before being sidelined with a left lower leg injury  … missed the final nine games following surgery … made four tackles on special teams … had a career-high two stops vs. Troy (9/8) and single tackles vs. Lamar (9/1) and FIU (9/29).
High School: First team all-district choice as a senior at Lakeshore High, playing for coach Larry Route … also tabbed second team all-district mention for his special teams play … rushed 177 times for 1,281 yards (7.3 avg.) and 24 touchdowns and passed for 987 yards and six scores, earning district MVP honors … also caught five passes for 193 yards (38.6 avg.) and two TDs … all-district pick as a junior … lettered three times each in football, basketball and track … ran the 100 and 200 meters in track, posting a best of 10.93 in the 100 … played in the annual Bayou Bowl, the Texas-Louisiana all-star game.
Personal: Born Sept. 17, 1993 in Covington, La. … the son of David and Diedra Blanchard … has two sisters (Jamie Riles & Tiquanna Blanchard). . . sister, Jamie, ran track at Tulane … volunteered time in high school working with the Boys & Girls Club and Special Olympics … criminal justice major.
Before the breakdown begins, I feel pretty confident in saying this one of the 2017 NFL Draft Prospects that most will not know until some point once the 2017 NFL season starts. He is the "Poor Man's Jabrill Peppers. Raised by his grandparents, Riles recognizes the importance of family and is the proud father of a one-year old daughter.
He was recruited out of high school to play receiver and defensive back. Louisiana-Lafayette wanted him as an athlete and wanted him to play both sides of the football. Plain and simple, Riles is a football player and he simply makes plays.
Riles' redshirt freshman season he was moved from the secondary to linebacker and started five games and registered 39 tackles (28 solo). The impact of his collegiate career came his sophomore season after he was switched back to the offensive side of the football.
He leaves with First Team Sun Belt honors his senior season as a receiver. Riles is one of the most rounded players on the college landscape. His versatility to occupy different positions, play well into his favor as NFL teams will scour prospect list eyeing players who bring more to the table than others.
A very quick learner and exceptional feel for the game itself, Riles football IQ exceeds expectations. Well packed frame, hence his linebacker background, but he moves deceptively fast, which is apparent watching his beat coverage's.
Very naturally athletic, tracks the ball well downfield and has shown he can make difficult catches. Strong off the line of scrimmage and could be wildcat option or running back. He does a decent job changing direction and can get in and out of his routes cleanly. Willing blocker or I could envision Bill Belichick having fun using on his 53-man roster. For the raw parts of his game they all can be coached and tweaked.