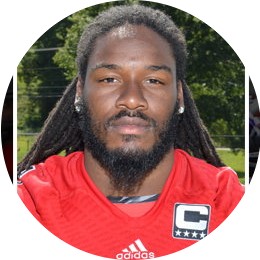 School:  Kentucky Christian Knights
College Experience: Senior
Height/Weight: 6'3″ / 240
All-Star Invite: N/A
Compares Too – Tennessee Titans, LB, Sean Spence
Twitter: @coop_blackmamba
40 YARD DASH TIME ::
225 BENCH REPS :: 16
VERTICAL LENGTH :: 36
BROAD JUMP :: 9'11"
SHUTTLE ::
3-CONE ::
Aaron Cooper
(Jr/LB) from Graves County High School (KY) was been named to the 2015 AFCA NAIA Coaches' All-America Team
.
Cooper is the first KCU Knight to receive this honor. Cooper earned the MSC East Division's Player of the year for his efforts during the 2015 season. He led the Mid-South while ranking second in the NAIA averaging 14.5 tackles per game. He finished the season tied for the conference lead with 15.5 tackles for a loss and ranked seventh in the MSC with six sacks.
Cooper is one of the top small-school prospects heading into the 2017 NFL Draft. He has established himself as a team leader and earned MSC East Division Defensive Player of the Year award, something he aims to duplicate in 2016. Good character and team oriented along with 'Social Worker' experience can ease the mind of future employers.
Big, fast, explosive along with fantastic length make him ultra production containing and maintaining the edge. He finished the season tied for the conference lead with 15.5 tackles at the conclusion of the 2015 season. Thickly built and very strong. Packs a punch and uses long arms and strong hands to stack and shed. Drives through contract and is a physical tackler.
Times blitzes and shows good closing burst on the ball. Cooper has an entire season to grow his game and has the frame to add weight. More consistent knee bend and displaying his game against a higher level of talent will be tasks moving ahead. Shows alertness in coverage to handle tight ends.
Overall, Cooper has the athletic ability and will be closely monitored by NFL Scouts this up-coming season as they scour the nation for those hidden gems on the college landscape. Kentucky Christian has one of those gems in Cooper. He completed his senior season by being named Defensive Player of the Year for a second straight time.
Cooper led the Mid-South and ranked sixth in the NAIA averaging 11.8 tackles per game. He finished the season with 130 total tackles to lead the MSC, while forcing five fumbles, which is tied for the most in the conference and second most in the NAIA. Cooper led his team with 12 tackles for loss and ranks 10th in the conference.